This Christian University Just Won the Right to Ban Gay Students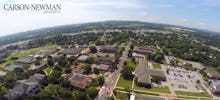 The LGBT movement has achieved many notable victories this year, securing marriage equality, major attacks on conversion therapy and more. But one Christian university just demonstrated why activists and allies must not become complacent: Carson-Newman University, a private Southern Baptist college in Tennessee, is now legally allowed to ban students whose "lifestyles" are interpreted as an affront to their Christian philosophy: gay students and others included.
The ban. "This is who we are as a Christian university," Dr. Randall O'Brien, president of the university, told CBS affiliate WVLT on Monday. "These are our religious principles. And in a changing world, we would like to reaffirm that this is who we are and who we intend to be."
O'Brien's legal counsel encouraged him to file the waiver, which exempts the school from allowing students protections usually afforded to them under Title IX. The university's president claimed doing so only "strengthen[s] our First Amendment rights."  
These "strengthened" rights include not only the ability to ban gay students, but also unwed mothers, women who've had abortions and even pregnant students, according to WVLT. And Carson-Newman is hardly the only college now able to do so: The university's legal counsel filed similar waivers for many other Christian schools, according to the same report, and 30 others are similarly exempt from Title IX. 
A history of discrimination. Discrimination, particularly against gay students, has remained widespread in recent years. For example, a University of Wisconsin-Whitewater student was assaulted based on her perceived sexual identity in 2010, according to a WMTV report, and a study released the same year revealed that 25% of lesbian, gay and bisexual students have been harassed based on their sexual orientation, the Huffington Post reported.
LGBT students disproportionately face plenty of other barriers on campus even after admitted, including sexual violence and harassment. Seventy-three percent of LGBT students reported experiencing sexual harassment, compared with 61% of non-LGBT students, and LGBT students face a disproportionately high rate of sexual violence as well, according to the Center for American Progress. These students also face high rates of mental health issues: Gay and bisexual men are three times more likely to have had major depression, and four times more likely to have a panic disorder than heterosexual men, and lesbian and bisexual women are four times more likely to have generalized anxiety disorder than their heterosexual counterparts, according to Campus Pride.
While O'Brien may remain concerned with his community's rights as Christians, college administrators across the country — as well as the governmental officials approving such waivers — would do well to remember this nation's supposed commitment to freedom and justice for all.
h/t Towleroad