James Blake 'Radio Silence' Album Is Coming — Here's Everything You Need to Know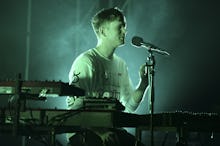 Fans of DJ/producer/singer/songwriter/maker-of-electronic-music James Blake may have to wait a little longer to hear his third studio album, originally forecasted for 2015: As the year comes to a close, there's no new LP in sight. Last December, Blake recorded a DJ residency at BBC 1, in which he played remixes, collaborations and new material. 
In his final broadcast for the residency, Blake gave his forthcoming album a name: Radio Silence, according to Pitchfork. Blake debuted the title track at the U.K.'s Latitude Festival in July, although he'd previously played an iteration of the song during a concert in May.
Source: Soundcloud
Release date: In November 2014, Blake said his new album "would be coming in 'about five months,'" according to Consequence of Sound. That would have put the release date in April, which came and went long ago. No news since.
Track list: Blake is on air Thursday with BBC, with "new music from his month in LA." Fans can keep their fingers crossed for a reveal of some new stuff during his two-hour slot. What we know for sure is the song "Radio Silence" will feature on the album. Consequence of Sound includes "Building It Still" and other material from the musician's December 2014 200 Press — out from Blake's label, 1-800-Dinosaur — a limited-release vinyl EP that Bleep calls "a polyrhythmic masterpiece."
Recent work: Radio Silence is the follow-up to Blake's 2013 Overgrown, reported Pitchfork, which won the Mercury Prize. Of Overgrown, the Telegraph wrote, "There is nothing constant but the mood it establishes, an emotional ambience of love and longing," calling its tracks "haunting." Then there's the aforementioned 200 Press, which may or may not lend material to Radio Silence.
Whenever the album comes out, Blake fans in North America can look forward to a visit from his "kinship of humans plus dinosaurs" in 2016, according to a Dec. 1 tweet from the artist.