This Plus-Size Model Took to the Streets to Make a Statement About Body Image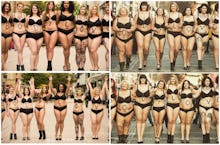 Photographer and plus-size model Silvana Denker is taking her body-positive movement to the streets of Germany.
In her new photo project "Body Love," which she launched on Instagram in October, Denker, 31, photographs women (and sometimes men) of all shapes in sizes in their skivvies — and in public. 
The idea for the project came from Denker's experience with unfortunate photo retouching. 
"The idea of the campaign started from a serial I shot for a plus-size magazine," Denker told Mic. "I took pictures of nude plus-size models to show that every body is beautiful, but the pictures were retouched [for the magazine]. Unfortunately the magazine changed the concept so the pictures didn't fit anymore, and so I decided to publish them by myself and posted [the] first pictures on Facebook." 
 "The pictures were retouched ... so I decided to publish them by myself."
After receiving positive responses from her followers, she decided that she wanted to take the idea of un-retouched images to a larger scale — and that meant taking the images to a more public scale. 
"You need to get attention, and so I did the first shoot in the pedestrian area of a city called Siegen near my hometown [in Germany]" she said. "I also stopped retouching the photos because I wanted to show how women look in reality, small, big, tall, little, with stretch marks, with a belly after giving birth, etc."
After that one shoot, fans almost immediately started writing her, asking to come to their own cities, so she decided to first do a tour throughout Germany. 
So far, the campaign has hit up the streets of Hamburg, Berlin, Koblenz and Cologne, Germany, with the streets of Stuttgart, Germany as the next frontier, spreading self-appreciation. The "models" Denker works with often pose with hashtags like "#LoveYourself" and "#BodyAcceptance" and, of course "#BodyLove" painted across their bodies. Oh, and they aren't actually professional models.
"The models you see are no professionals — they are just normal people," she said. "For every city, I post a calling on Facebook and they can send an application. But meanwhile, so many know this project [that] they write me and ask if they can be a part of one of the next shoots."
Along with a healthy online following, who often post comments like "I love this! Great idea, great concept" and "Yaaaaaaaaassss," the campaign has gotten press attention from media outlets in Deutschland along with Plus Model Magazine. In just the past day, Denker says that she's received almost 1,000 new followers on Facebook and 200 on her Instagram. 
According to a 2011 interview, Denker, who's from the small village of Niederhövels, Germany, got into modeling at 18 but fell into photography shortly thereafter in 2006 because, "I always had own [my] ideas and I wanted to implement them by myself." 
Clearly, Denker's point of view is front and center in these images, which all promote a healthy body image and lifestyle. 
Denker's images join the chorus of voices from plus-size models and insiders looking to promote body positivity, rather than shame. In addition to #BodyLove, there's #ImNoAngel from Lane Bryant, which promotes redefining what "sexy" means today, and a slew of others like #LoveYourLines and #LoseHateNotWeight. 
Denker's point of view also echoes the voices of plus-size models Robyn Lawley and Ashley Graham, who have come out in support of women loving their bodies the way they are. 
As far as future plans go, Denker only wants the movement to grow. 
"My biggest dream for this campaign is to make it big and international," Denker said. "How great would it be to see eight gorgeous women walking along Times Square?"
Indeed.