'Serial' Season 2 Won't Be as Compelling as the First — and That's a Good Thing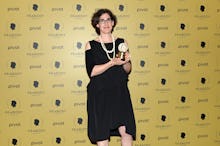 The second season of Serial dropped onto phones and computers suddenly Thursday morning. It was as if host Sarah Koenig herself snuck into everyone's homes to leave an early Christmas gift, then went to grab some shrimp with Dana at the Crab Crib.
Enthusiasm about the podcast's new season was immediate and palpable. But as Koenig and her team wade into the story of accused deserter Bowe Bergdahl, Serial is unlikely to inspire the same fanaticism as Adnan Syed's story in season one. Believe it or not, that's actually a good thing.
As the New York Times reported, season two is being produced in concert with filmmaker Mark Boal, the Academy Award-winning screenwriter and producer behind The Hurt Locker and Zero Dark Thirty. The idea is that the result of Boal's reporting will lead to a third film — likely a part of his and director Kathryn Bigelow's informal war trilogy, according to the New Yorker.
As a film, Bergdahl's story makes sense. Like the assassination of Osama Bin Laden depicted in Zero Dark Thirty, it's a historical tale audiences have great familiarity with, but won't know all the details. As a plot for Serial, however, it's quite different than Adnan Syed's story.
The investigation into and trial of Syed for the murder of Hae Min Lee was a presumably resolved, mostly local case. Few outlets beyond Baltimore and Maryland news had taken interest back in 1999. It was, for all intents and purposes, "new" material for mass audience consumption. It became a sensation, with more than 100 million downloads in its first season.
It also inspired a lot of listener devotion and investigation. A popular subreddit about the show became a breeding ground for fans on the Internet to compare their own notes and delve deep into the story themselves.
Serial season two will not inspire that. The Bergdahl story is not a cold case looking to be reopened with new information, but a processing of the facts and perspectives as they are. Judging by what we know of Koenig, the decision to go with a less unclear case was likely intentional.
"We're really not planning on having the same response that we had in season one," Koenig said at the Brooklyn Academy of Music in September. She was speaking about the new season amid rumors Bergdahl would be the subject. "Frankly, we're really totally okay with that."
For a journalist like Koenig, having competitors also looking into what you're doing, even if they're fans of your podcast, is a frustrating experience. This annoyance revealed itself in Serial production manager Emily Condon's response to Maxim's request for comment on the Bergdahl rumor back in September.
"We'd very much appreciate if fellow journalists would give us some room and not feel the need to attempt to dig into and try to figure out what you think we might be doing, especially since we're actively reporting stories, and having a bunch of wild speculation out there makes our job reporting harder," Condon said. "Doesn't feel very menschy."
Koenig backed that up during her Brooklyn Academy of Music appearance. "I really miss the days when nobody gave a crap what I was doing," she said. "I wish I wasn't worrying that sources were going to call somebody and be like, 'Guess who I just talked to.' It'd be nice to just be like a troll in my basement again."
Considering her attitude about fan response, it's not a reach to say the choice of Bergdahl's story for season two wasn't planned with audience reception in mind.
The response to Serial's first season is comparable to that of HBO's docu-series The Jinx, an investigation into alleged murderer Robert Durst's crimes. In The Jinx's case, however, director Andrew Jarecki was able to end with a dramatic confession. Serial proved to be more of a meditation on innocence versus guilt, with much of the progress in Syed's case taking place after the fact.
If Serial season two disappoints, the podcast will suddenly become more comparable to another HBO show: True Detective. Season one of that show ended disappointingly after thrilling viewers up until that point. Season two was a disaster.
Unlike True Detective, however, Serial is already working on season three. So it can afford to disappoint fans, thus losing a bit of the fervor around it. Then, Koenig and her team can work in something resembling their former anonymity as they wrap season three — and re-create the podcast they always wanted.
Even if Serial season two doesn't inspire rabid fan investigations and Saturday Night Live sketches, it's sure to be a fascinating ride. Koenig is nothing if not a gifted storyteller, and Americans have yet to hear Bergdahl's unvarnished side of the story. If nothing else, it will serve a unique purpose as a sort of behind-the-scenes prelude for Bigelow and Boal's eventual film.
But season two will not be season one. Bowe Bergdahl is not Adnan Syed. #FreeBowe is not likely to explode the way #FreeAdnan did. That's okay. We'll still listen.