Soon You May Be Able to Try On Clothing With Your Xbox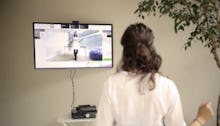 We shop online for pretty much everything these days, but there's still the everlasting problem: not knowing whether the things we bought will actually look good on us.
Countless companies have tried addressing the problem with all sorts of software and virtual reality-like gizmos. The latest? A Dublin-based company called Von Bismark has released its virtual shopping app on Xbox One.
Von Bismark, which specializes in "virtual commerce," first teased the gaming-meets-shopping experience in March. But it wasn't until last week that the app, the Mall, became available to Xbox console owners in the United States, according to Video Gamez Network. 
We haven't tried it yet, but we're... skeptical.
Using the Kinect technology in XBox (y'know, the one the Wii uses), users scroll through a selection of merchandise and see the clothes projected on top of their bodies, helping them better visualize how they'd fit. 
If you're thinking, "OMG, just like in Clueless!" there is an important difference: The Mall app isn't focused on your current wardrobe, however, so much as it's focused on encouraging you to shop for new clothes. The clothing options are chosen from a store, and you can click to buy what you like directly via the XBox, using a separate app called PowaTag that stores information for an easy checkout, according to a press release from the company. 
Von Bismark hopes to cash in on the fact that you likely already have a TV in your living room.
"The Mall on Xbox One is the first giant step in our vision to create more beautiful, physically engaging ecommerce experience, delivered through the largest piece of visual real estate you own — the living room TV," Eoghan O'Sullivan, the CEO of Von Bismark said in a press statement. 
"The Xbox One is the perfect device to launch on — it's incredibly powerful, built for smooth interaction and with the Kinect camera we can bring you as close to physically trying on the clothing as you will ever get when shopping online."
Another attempt to solve a shopping problem: This isn't the first time the 1995 innovation seen in Clueless has served as inspiration. This year, one company released an app called the Cloth that lets you do just that, saving and organizing photos of your favorite outfits to make getting dressed in the morning easier. 
Other companies have tried to enhance the online shopping experience with virtual try-on rooms. In 2013, "virtual dressing room" company Qvit introduced 3-D avatars for online shopping users, with bodies that resembled their own so users could then "try" on clothes, according to the Huffington Post. 
In 2011, Topshop tried to bring similar technology to stores, incorporating the Xbox Kinect software into "augmented reality changing rooms," with which shoppers could see virtual samples of the clothing overlaid on their bodies.
Needless to say, that kind of technology has yet to reach most shoppers, and it's too early to tell whether the shopping app the Mall will do well. If you're the kind of person who sends friends blurry photos of yourself trying on store outfits, then you might enjoy the share option on the app: Users can take a photo of themselves wearing an outfit and send to friends.
But chances are a floating dress won't solve the problem of online shopping or virtual dressing. There is just something about feeling the material on your body and seeing how it drapes just right (or not so right) that makes IRL shopping worthwhile.
h/t Creativity