First 'The Legend of Tarzan' Trailer YouTube Video Featuring Alexander Skarsgård Is Here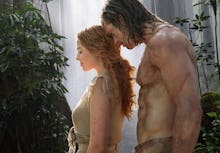 The first teaser trailer for 2016's upcoming Tarzan reboot The Legend of Tarzan is officially here, and it comes with some major plot reveals (as well as plenty of shots of a super buff Alexander Skarsgård leaping through the trees).
 From the opening moments of the trailer, it's clear that this film is a far cry from Disney's 1999 cartoon version of Tarzan (which featured a legitimately awesome soundtrack by Phil Collins). This new film, directed by the Harry Potter franchise's David Yates, seems dark and foreboding from the outset of the two-minute trailer.
The film is set years after Tarzan, played by Skarsgård, has "left the jungles of Africa behind for a gentrified life as John Clayton III, Lord Greystoke," according to the film's official website. "Now, he has been invited back to the Congo to serve as a trade emissary of Parliament, unaware that he is a pawn in a deadly convergence of greed and revenge, masterminded by the Belgian, Capt. Leon Rom."
Rom, the movie's apparent villain, is played by Christoph Waltz, who appears in the trailer looking appropriately colonialist.
It's not yet clear how, but it seems from the trailer that, at some point in the film, Skarsgård will shed his "gentrified" identity and go back to running shirtless through the rainforest and hanging out with apes. Get ready for some epic jumping shots.
The trailer also indicates audiences can expect some baby Tarzan flashback sequences, some ape vs. human  showdowns and, of course, a little romance. Tarzan's wife, Jane, will be played by Margot Robbie.