The Weeknd Accused of Stealing Song Clip for 'The Hills'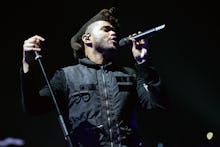 The Weeknd has been sued for his hit song "The Hills," which allegedly uses a sound clip from U.K. composer Tom Raybould's song "Revolution," featured in the 2014 movie The Machine, Variety reported. The lawsuit was filed by Cutting Edge Music Limited on Wednesday, E! News reported.
"The lawsuit speaks for itself, and I appreciate my publisher, the Cutting Edge Group, standing up for composers in situations like the one I'm in," Raybould said in a statement, according to Variety.
Cutting Edge Music Limited claims in the lawsuit that Emmanuel Nickerson, aka Million Dollar Mano, messaged Raybould via Twitter on March 9 saying, "I sampled your music. Might make it 2 the Weeknd next album. Huge fan of what u did 4 The Machine movie!"
Other than the Weeknd, real name Abel Tesfaye, two of his producers — Nickerson and Carlo Montagnese, aka Illangelo — co-writer Ahmad "Belly" Balshe, Universal Music Group and Republic Records are all named as defendants, Pitchfork reported. 
"The Hills" is the second single from the Weeknd's second major-label LP, Beauty Behind the Madness, which dropped in August, according to Spin. The song came out on May 27, just months after the alleged Twitter message, according to Pitchfork. It made it to No. 1 on Billboard's Hot 100 list.
Listen to "The Hills" below: