'Teenage Mutant Ninja Turtles 2' Trailer Released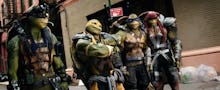 The highly anticipated sequel to Teenage Mutant Ninja Turtles is hitting theaters in 2016, and it looks like it's going to be just as action-packed as the last. Teenage Mutant Ninja Turtles 2, co-produced by Michael Bay, is aiming for a summer box-office smash, with a release date of June 3, according to IMDb. 
The first trailer for the film was posted to YouTube Wednesday, featuring several new characters, including Stephen Amell who stars as Casey Jones, Gary Anthony Williams as Bebop and Stephen Farrelly as Rocksteady. 
The trailer, though more than two minutes long, only provides a slight glimpse into the storyline for the forthcoming film, focusing heavily on several fight scenes interspersed with various one-liners, explosions and, of course, Megan Fox undressing. As Deadline wrote Wednesday, "the sequel has just run with the ridiculousness all the way into being what feels like a live-action version, not of the more recent Nickelodeon cartoon or the original Eastman and Laird comic, but of the late-'80s cartoon."
So, fans are essentially hoping Teenage Mutant Ninja Turtles 2 will be the 2016 version of what their inner children remember so fondly of the popular cartoon. Twitter users immediately expressed their excitement for the new TMNT sequel after the trailer dropped: