Watch Madonna Perform a Surprise Concert in Paris' Place de la Republique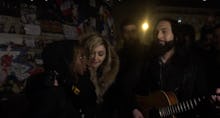 Madonna was not done performing when she left the stage Wednesday night at her sold-out show at Paris' AccorHotels Arena. "I'm singing some songs in Place de la République," she tweeted to her fans. "Meet me there now." 
Those that could make it were treated to a very intimate and beautiful set dedicated to the victims of the terrorist attacks that shocked the city Nov. 13. Accompanied by her son David and guitarist Monte Pittman, Madonna ran through her song "Ghosttown," John Lennon's "Imagine" and her classic "Like a Prayer."
"Everybody knows why we're here," Madonna told the audience. "We just want to sing a few songs about peace, just to spread love and joy, and to pay our honor and respect to the people who died almost four weeks ago."
The square has become an informal memorial since the attacks, with visitors surrounding the statue of Marianne with flowers, candles and messages to the deceased. Lennon's "Imagine" has been one of the most oft-played songs to commemorate the victims. 
Madonna has been particularly vocal following the attacks. She tweeted the night of the attacks, asking her followers to pray for peace. "We are all immigrants!!" she wrote. "We all bleed the same color." On Nov. 14, she dedicated portions of her set in Stockholm to address the attacks, reminding audiences of the goodness that still exists in the world, and singing "La Vie En Rose," a famous French song.
She chose another famed French song during her set Wednesday at the AccorHotels Arena, singing the French national anthem, "La Marseillaise," while draped in the country's flag. 
"I came here when I was 20 and it was here, in Paris, that I decided to make music," Madonna said during her set at the AccorHotels Arena. "Thank you, Paris, for planting that seed in my heart."