Miranda Kerr's New Naked Cover Is the Last Naked Fashion Cover We Ever Need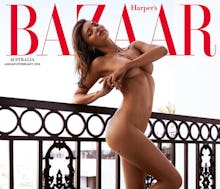 Harper's Bazaar Australia debuted on Wednesday its latest cover, which shows 32-year-old model Miranda Kerr posing with an arched back and flowing hair, wearing nothing but a pair of heels and a few gold bangles.
And people are pissed. 
After the fashion glossy posted the image on their Instagram, the criticism poured in. 
"How can they think as readers of a fashion magazine we want to look and read something akin to a men's mag?" one commenter wrote. Said another, "Very sad that this is what is on the cover. I thought this was a fashion magazine, not a version of Playboy."
But even Playboy doesn't do nudes anymore. That's the direction the magazine industry is going, with a helpful push from 21st-century feminism — and the rest of the fashion industry needs to catch up. 
It seems more and more of us are sick of naked ladies.
Totally over it: While "sex sells" has been around longer than "nothing comes between me and my Calvins," it seems people are getting a little sick of it. That's especially true for a magazine like Harper's Bazaar Australia, which caters to a largely female audience, leading readers to ask one very critical question: "Why?"
Below the magazine's Facebook post debuting the cover were comments like "You do know you're a fashion magazine, right?" and "Nothing fashion about this cover at all."
Kerr herself even hinted at the cover's disassociation with actual fashion. "The funny thing about this shoot was that I didn't know we were doing nudes — I thought we were doing a fashion story," Kerr told the Sydney Morning Herald.
Such responses echoed those to last year's Alexander Wang jean ads, which featured a naked model with her pants around her ankles. As the Hollywood Reporter noted wryly about the pants ads, "Alexander Wang's New Denim Ads Suggest Going Pantless."
In Wang's case, gratuitously nude photos didn't actually showcase the clothes they were meant to showcase — and moreover, they weren't really shocking. The sentiment was less anger, but rather fatigue. At this point, we're surrounded by images by the likes of Wang and American Apparel. We've seen Rihanna in her naked dress, and we've seen Miley Cyrus every time she steps onstage. It's not even titillating or remotely controversial.
That might be why no one raised much hell about a recent ad for Stuart Weitzman, which featured three top models naked from head to ankle.
The fashion industry should take note: Just this year, Playboy announced it was doing away with its nude layouts, in part due to the proliferation of free nudes these days (hello, Internet porn) as well as the influence of a changing cultural climate. 
In an interview with the New York Times, chief content officer Cory Jones said the revamped Playboy would include a sex columnist written by a "sex-positive female" — a telltale sign of how influential and forceful modern feminism has become.
Soon after Kerr's cover debut, Harper's Bazaar editor-in-chief Kellie Hush was quick to defend the decision — and distance it from the Playboy name.
"The demise of provocative men's magazines has been a long time coming and Bazaar is in no way looking to fill that slot," Hush told the Sydney Morning Herald, adding [emphasis ours]:
"We're now living in an era of Victoria Secret Angels, stolen nude photos and attempts to break the Internet with reality stars in provocative poses. This isn't the same thing. Harper's Bazaar has long celebrated the daring woman — someone with vision, commitment, style — and a total lack of fear. Miranda may be naked but she's a trailblazer and this cover celebrates this."
But nowadays, many women aren't buying it — thanks largely to the rise of modern feminism, which has proven famous women don't need to get naked to get attention or prove their "trailblazing" ways. While there are some women out there who feel empowered and "fearless" by nudity, there are more and more women realizing that feeling can come from elsewhere. 
That's especially true when a woman's nudity isn't entirely her own choice, when female nudity goes from empowering to objectifying, as it often does in fashion ads. Just take recent photos from New Zealand jewelry brand I Love Ugly, which displayed baubles on male hands groping the female form. The woman is used, quite clearly, as a prop to be ogled, and the Internet practically erupted.
In this day and age, "sex sells" isn't quite so simple, especially when women are more tuned-in than ever to the double-standard treatment of women's bodies. In a 2006 study, a group of professors from the University of Florida gauged women's responses to provocative ads. They found that the sexier the image, the more negative a reaction. 
Naked women aren't a rarity anymore, nor are they necessary to sell clothes — nor are they amusing to plenty of women, unless those women are choosing to get naked themselves. If Playboy can get the memo, when will fashion magazines?