These 5 Charts Show Who Your Favorite Rapper's Favorite Rapper Is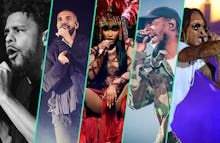 "Top five, dead or alive?"
It's not an even remotely easy question to answer, but it's been a centerpiece in hip-hop interviews and talks for years. They often play out like conversations about the existence of God or the soul. It's nearly as difficult to shake a believer's faith in their favorite MC as it is in their savior, and there's no one right answer.
Obviously, Notorious B.I.G. and Tupac are mainstays on many people's top five rappers. But who were the MCs they looked up to? Who motivated them to stay up perfecting their flows and deepening their concepts? The chain of influences runs deep, like a family tree, back to the very first artists to experiment with double time flows, multi-syllable and internal rhyme schemes.
Trying to chart all these connections linked together on one graph creates such an inextricable tangle it's nearly impossible to make sense of. Instead, we've broken them down into five separate charts, digging through concert footage, prior interviews and conducting some of our own to establish three generations of influence. The charts also include nods from some of the godfathers and godmothers of rap to those young MCs they see pushing the genre forward. There's one for each of today's five top rappers: Future, Drake and J. Cole being the top rappers on Billboard's top 100 artists chart with more than one studio album to their name (maybe one day, Fetty Wap); Kendrick Lamar for his position as the year's most critically acclaimed rapper and author of our POTUS' song of the year; and Nicki Minaj for being one of the most influential MCs in pop culture conversation. 
Without further ado, let us begin with one of the most prolific and GIF-able rappers of the year:
Drake is very open about his fandom — a trait not necessarily shared by many of the rappers on these lists. In several interviews, he's cited André 3000 of Outkast, Lil Wayne, Phonte of Little Brother, Jeezy and Kanye West as some of his favorites. 
In a 2010 Complex cover story, Drake was highly complimentary of J. Cole, citing him as one of his favorite rappers out right now. He said Cole had the potential to become a "Nas-type character who really stands for hip-hop" in the future.
André 3000, on the other hand, is a little more close-lipped when naming his favorites. 
"The thing about these hip-hop lists ... it's like, 'How can you make a list because it's so many people you leave off that a lot of people may disagree with?'" he said in a 2009 interview. "I'm surprised Ludacris is never on there — he's one of the dopest. Black Thought ain't on there — he's killin' a lot of people." In a 2014 interview with NPR's MicCheck, André called Hieroglyphics, Souls of Mischief, Das EFX and A Tribe Called Quest major influences on his style.
In an April 2014 interview, Atlanta and Dungeon Family affiliate Future had to think hard over his favorite meal, his favorite movie, but he barely hesitated when asked his favorite rapper: the almighty Tupac. Future has also name-dropped New York OG Kool Moe Dee, Queen Latifah and Too $hort as huge influences on his career.
Piecing together Tupac's top MC's is a challenging prospect. On his song "Old School," he name-drops a plethora of old school legends. "Eric B. & Rakim was the shit to me," he rhymes, also naming Big Daddy Kane, Stetsasonic, Treach from Naughty By Nature, KRS-One, T La Rock and Mantronix. In a 1992 feature in the Source, Tupac named the Geto Boys' "Grip It! On That Other Level" as his favorite rap album of all time. LL Cool J's "I'm Bad" was the song that made Tupac want to become a rapper in the first place, according to a biography written by Carrie Golus.
"It probably changes all the time,"J. Cole told the Rap-Up in 2014 when they asked him for a top five. He named six, naming both Tupac and Notorious B.I.G., along with Jay Z, Nas, with André 3000 and Eminem tied for that last spot. "I wanna say [André] so bad, but Eminem is like solo dolo," he said. "Andre's incredible, but he'll tell you himself, he was in a duo so his workload was a little less, but creatively he's miles beyond."
Notorious B.I.G. only enjoyed about three years as a major star in the game. In 1995, between his debut album and Life After Death, Notorious B.I.G. got interviewed by Peace magazine and was asked to rate rappers on a scale of 1 to 10. The only rappers to get a perfect score from Notorious B.I.G. were fellow New York natives Nas and Jeru the Damaja, Gang Starr member Guru and the Bay Area's Too $hort. 
Elder statesman Eminem's list is split into two parts — six of the greatest of all time and three current rappers. For greatest of all time, he named LL Cool J, Run DMC, Beastie Boys, Kool G Rap, Big Daddy Kane and Treach for Shade 45 radio in 2013. In July of this year, Eminem shared who he's been keeping tabs on these days with the New York Times, naming Lil Wayne, Schoolboy Q and Kendrick Lamar. "Kendrick, the way he puts albums together — front to back, they're like pieces of art," he said.
As fascinated as Eminem may be with Kendrick Lamar's current output, Lamar has compliments to send right back to Eminem. Lamar could not name just five when Erykah Badu asked him about his top five rappers of all time for Interview magazine. He names ten in no particular order, adding an alternate and unexpected eleventh: Method Man from the Wu-Tang Clan. Earlier this year, in a Twitter Q&A, Lamar named Earl Sweatshirt — whose I Don't Like Shit, I Don't Go Outside dropped a week after Lamar's To Pimp a Butterfly — as his favorite artist in the game right now. 
In 2010, Nas curated a 10-track playlist for Rolling Stone including a song from each of his favorite MCs. He gives especially high praise to Queen's rapper Kool G Rap. "The way we're rhyming now?" Nas said, discussing the 1989 track "Road to the Riches." "He was already doing it then." He also discusses Lil Kim's "Queen Bitch" saying, "At the time, females rappers didn't appeal to the street, but Kim came with the vulgarity, sexuality and gangster shit."
The reason Nicki Minaj named her 2014 album The Pinkprint was to honor her favorite rapper, Jay-Z, after his 2001 record The Blueprint. 
"He did such a great job of creating this Blueprint brand for male rappers, I felt," Minaj told Power 106 in May 2014. "And I studied a lot of his blueprint, just in terms of becoming a mogul." 
In that same interview, she also names her close collaborator and mentor Lil Wayne as another of her favorites. Before that, in a 2013 interview, she gave a list of her favorite female MCs in an interview with Hot 97's Peter Rosenberg, citing, "Foxy [Brown], [Lil] Kim, Lauryn [Hill] and then Remy [Ma]."
It's difficult to find interviews of some of these female MCs discussing their favorites. Lil Kim and Remy Ma have spelled them out clear as day. In the book Icons of Hip Hop: an Encyclopedia of the Movement, Music, and Culture author Mickey Hess quotes Foxy Brown as crediting Roxanne Shanté as "one of her idols. Shanté is "a pioneer for the type of shit I'm doing. I swear by her," Brown says. 
In a 1999 interview republished by the Guardian in 2013, Lauryn Hill claims she didn't grow up listening to New Edition and hip-hop, like many of her peers. She gravitated towards Gladys Knight, Marvin Gaye, Kraftwerk, and Depeche Mode. "I was real happy with the way I grew up with different stuff, 'cos it made my appreciation of sound very broad," she said. Later in a 2010 interview with NPR, she showered specific praise on Bob Marley: "Bob Marley to me was one of the most clever lyricists, how he put things together, just like the way he put together songs," she said. "When it was my turn to write I couldn't help but, I suppose, reflect that."