Carly Rae Jepsen Gimmie Love Tour: Cities, Dates and How to Get Tickets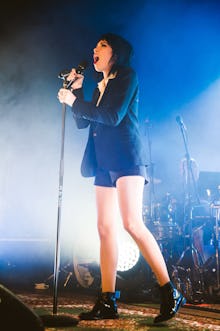 "I Really Like You" artist Carly Rae Jepsen is continuing her nationwide Gimmie Love tour in 2016 to promote her latest album Emotion. She hit New York City, Philadelphia and a couple of other major cities in November and is heading back on the road, starting Feb. 12 in North Carolina and wrapping up in March in New York again.
"Emotion is full of whizzing, industrial-strength pop songs that raid the musical closets of Cyndi Lauper and Prince and establish the 29-year-old Canadian songwriter as much more than a one-hit wonder," Time's Nolan Feeney wrote in his review of Jepsen's third studio album, which she'll be performing on the Gimmie Love tour. Tickets go on sale Friday on Ticketmaster and Jepsen's site.
Here are Jepsen's February Gimmie Love Tour dates:
Feb. 12 — Metro — Chicago, Illinois
Feb. 13 — St. Andrews Hall — Detroit, Michigan
Feb. 14 — Cannery Ballroom — Nashville, Tennessee
Feb. 17 — Madison Theater — Covington, Ohio
Feb. 18 — Mr. Small's — Pittsburgh, Pennsylvania
Feb. 19 — Norva — Norfolk, Virginia
Feb. 20 — Baltimore Sound Stage — Baltimore, Maryland
Feb. 22 — Upstate Concert Hall — Clifton Park, New York
Feb. 23 — Fete Ballroom — Providence, Rhode Island
Feb. 25 — Terminal 5 — New York, New York
Feb. 26 — The Paramount — Huntington, New York
Jepsen's Emotion, released in August, proved that the "Call Me Maybe" singer is more than a one-hit wonder. "We had the biggest single in the world last time [with "Call Me Maybe"] and didn't have the biggest album," Jepsen's manager Scooter Braun told the New York Times earlier this year. "This time we wanted to stop worrying about singles and focus on having a critically acclaimed album." 
Jepsen's team worked with more than 200 potential tracks for the album and 12 made the cut. "Emotion is as solid and spotless a pop album as you're likely to hear this year, the result of several years working alongside a storied list of contributors," Pitchfork's Corban Goble wrote in a glowing review.
Watch the music video for Jepsen's hit song "I Really Like You" off Emotion (Tom Hanks stars in it and Justin Bieber makes an appearance):