Michelle Obama Raps in 'Go to College' Video With Jay Pharoah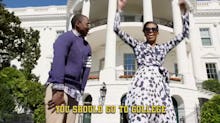 Listen up, high school seniors of America, because FLOTUS just dropped a hot new track and it's chock-full of sensible advice. 
Saturday Night Live's Jay Pharoah and first lady of the United States Michelle Obama rapped about the importance of going to college in a new CollegeHumor video to promote the "Better Make Room" campaign, which offers support and information to young people throughout the college application process.
The video starts with two kids hanging out and talking about how lame college is, when Pharoah suddenly pops up and starts spitting rhymes about the power of higher education.
Then Obama jumps in to help list some of the many career aspirations that would require a college degree, including engineering, archaeology and astronomy (but not astrology).
The video even features a throwback photo of Obama in her college days (the first lady majored in sociology at Princeton University).
The video is a delightful way to reach high schoolers who may or may not be considering college, but it's a safe bet that at least one high school senior is rolling her eyes: Malia Obama is currently in the middle of applying to colleges, and she may not want more unsolicited advice from her mom, especially in rap form.