'Ridiculous 6': Cast, Plot and Trailer of New Adam Sandler Movie Exclusively on Netflix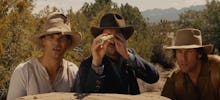 Exclusively released for Netflix on Dec. 11 will be Adam Sandler's Wild West comedy The Ridiculous 6. Alongside Sandler are other big stars, such as Taylor Lautner, Terry Crews, Steve Buscemi, Rob Schneider, Nick Nolte, Danny Trejo, Will Forte and Luke Wilson, according to IMDb. 
The comedy, which is part of a four-movie deal between Netflix and Sandler, follows six half-brothers banding together to find their dad, according to IMDb. Its title is a play off of the 1960 classic western The Magnificent Seven, according to Variety.
"We were just trying to make as good of a western as we could make, and we tried to make it as funny as we could make it," Sandler said, according toldVariety. 
Frank Coraci directed the film and told Variety that working with Netflix allowed him more creative flexibility.
Due to the plot, the film hit controversy during filming in April for being offensive to Native Americans, with some Native American actors walking off set, according to MSNBC. Some characters in the movie have names like "Wears No Bra" or "Beaver Breath."
Netflix stood by Sandler and released a statement, according to the Atlantic, saying, "The movie has ridiculous in the title for a reason: because it is ridiculous. It is a broad satire of Western movies and the stereotypes they popularized, featuring a diverse cast that is not only part of — but in on — the joke." 
Coraci argued that the plot is actually "pro-Native American," and cast and crew said the walking off was just a misunderstanding, according to Variety. 
The trailer for the film is below: