President Obama Comments on Humans of New York Post, Welcomes Syrian Refugee to America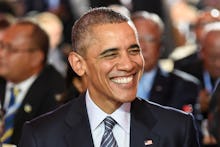 President Barack Obama wrote a personal message to a Syrian refugee currently living in Turkey whose story was told on the popular Humans of New York Facebook Wednesday night. 
Over a series of seven portraits taken by Brandon Stanton, the photographer behind the Humans of New York page, the man, whose name isn't disclosed, described his career and the bombs that killed his wife and several members of his family in Syria.
Obama commented on the final portrait, in which the man revealed he has been approved for resettlement in Troy, Michigan.
"As a husband and a father, I cannot even begin to imagine the loss you've endured," Obama wrote through his official Facebook page. "You and your family are an inspiration. I know that the great people of Michigan will embrace you with the compassion and support you deserve. Yes, you can still make a difference in the world, and we're proud that you'll pursue your dreams here. Welcome to your new home. You're part of what makes America great."
Obama's welcome sends a powerful message in the midst of a nationwide debate about providing refuge to people fleeing the crisis in Syria. In addition to the president's message, thousands of well-wishers offered their support, including several residents of Troy, Michigan, who wanted to share words of welcome.
In September, Obama left a comment on a photo of an Iranian man and his son posted on the page that also went viral.
Humans of New York often grabs the attention of big names and politicians: A photo of a young aspiring science journalist garnered a reply from the official NASA Facebook page in November, and Hilary Clinton dropped by over the summer to offer support to a boy who said he was struggling with his sexuality.
Get the news everyone's talking about delivered straight to your inbox every morning by signing up for MicCheck Daily.