7 Charts Show What Millennials Really Think About Politics and the 2016 Campaign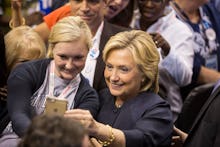 Millennials view establishment institutions with a hefty dose of skepticism — an outlook that's led them to embrace the presidential bids of anti-establishment candidates Sen. Bernie Sanders (I-Vt.), real estate tycoon Donald Trump and retired neurosurgeon Ben Carson, a national survey conducted by the Harvard Institute of Politics finds. 
The survey, released Thursday, sampled 2,011 18- to 29-year-olds, probing their views on a wide range of social, economic and international issues.
"For 15 years, the IOP has polled millennials, the largest generation in U.S. history," Harvard IOP director Maggie Williams said in a press release. "Our fall poll shows they are deeply divided about who should lead America, focused on candidate integrity and split over whether the American Dream is alive or not.  We are hopeful that political leaders will inspire and include this generation in conversations about the future of their country."
Here are seven key takeaways from the survey:
1. Millennials want to see a Democratic president 
Young voters helped propel President Barack Obama to the White House; Obama beat Sen. John McCain (R-Ariz.) 66% to 31% among 18- to 29-year-old voters in 2008, according to exit polling. Four years later, voters in that age group again broke heavily for Obama, albeit by a slightly smaller margin: The president won 60% of their votes, compared to 36% for Republican nominee Mitt Romney.
As the nation prepares to enter the post-Obama era, millennials remain strongly Democratic in their political leanings. Fifty-six percent of respondents to the Harvard survey indicated they hoped a Democrat would succeed Obama while 36% preferred a Republican.
2. But a plurality considers themselves independents
Though young voters expressed a clear preference for a Democratic president, only 36% identified themselves as Democrats in the survey, while only 21% consider themselves Republicans. Meanwhile, 40% said they were independent of any political party.
3. They're more liberal than the typical American
More racially diverse than any previous generation in U.S. history, overwhelmingly in favor of marriage equality and far more supportive of marijuana legalization than older generations, Millennials' backgrounds and views dovetail with American liberalism in many ways. And according to the Harvard poll, a 39% plurality consider themselves liberal, compared with 25% who are moderates and 33% who are conservatives.
Compare those results with a January Gallup survey, in which only 24% of Americans overall called themselves liberals, 34% were moderates, and 38% were conservatives.
4. They want ground troops to fight ISIS
Before the Islamic State terrorist group, also known as ISIS, coordinated a series of attacks killing 130 people in Paris on Nov. 13, millennials split 48% to 48% on whether the U.S. should send ground troops to fight the group in Iraq and Syria. When Harvard re-asked the question after Paris, however, 60% favored deploying ground troops, and only 40% opposed that step.
The results mesh with public opinion among Americans overall. An ABC News/Washington Post poll released after the Paris attacks also found 60% support for dispatching ground forces.
5. Democratic millennials back Sanders, Republicans like Trump and Carson
While Hillary Clinton has secured her position as the Democratic frontrunner, young Democrats prefer Bernie Sanders, who beats Clinton 41% to 35%. Former Maryland Gov. Martin O'Malley — who at 52 is a generation younger than Clinton, 68, and Sanders, 74 — registered less than 1% support.
Surveying Millennials this spring, Harvard found Clinton on top, winning 47% among young Democrats, followed by Sen. Elizabeth Warren (D-Mass.) at 11%, Vice President Joe Biden at 8%, O'Malley at 3%, former Sen. Jim Webb (D-Va.) at 2%, and Sanders at just 1%. Warren and Biden opted not to seek the White House while Webb dropped his bid for the Democratic nod this fall after failing to gain significant traction. 
Since announcing his run for president in April, Sanders has boosted his appeal among young voters with impassioned stump speeches lambasting the political and corporate establishment and proposing measures like tuition-free college.
On the GOP side, 18- to 29-year-olds backed Trump and Carson, who clocked in at 22% and 20%, respectively. No other candidate won double-digit support.
6. Millennials are skeptical of government — but think it's necessary 
Faced with the proposition — laid out by President Ronald Reagan in his 1981 inaugural address — that "government is not the solution to our problem; government is the problem," 50% of respondents agreed while only 16% disagreed.
Millennials also expressed concern about government access to personal data, with 63% responding that they were concerned about authorities gathering digital information from their computers and phones, against only 35% who weren't worried.
Despite harboring suspicion of government, however, millennials see a vital role for it: A 49% plurality favored "strong government regulations on things like food and medicine," edging the 47% who responded that government regulations do more harm than good.
7. Nearly half think the American Dream is dead
Having formed their political consciousness in the crucible of the war on terror, followed by a deep recession, Millennials came of age at a time of growing doubts about whether America's best days truly lie ahead of it, as politicians are fond of intoning.
Perhaps it's not surprising, then, that when asked whether the notion of the American Dream was dead for themselves personally, nearly half of respondents said it was.