Michelle Obama Raps About College — And the Internet Is Adding #FlotusBars of Its Own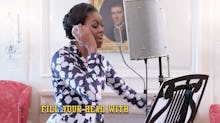 First lady Michelle Obama rapped in a music video released this week about the importance of going to college — and the internet is, predictably, putting its own spin on things.
The CollegeHumor video, which features FLOTUS and Saturday Night Live comedian Jay Pharoah rapping about higher education as part of the "Better Make Room" initiative, is fairly tame. After all, it's mostly about career goals and taking the SAT, but the good people on Twitter have been imagining what it would be like if Obama spit some different rhymes and have been tweeting their ideas with the hashtag #FlotusBars.
Some are imagining Obama taking down Donald Trump:
And some are wishing for a collab between the Obamas and the world of Broadway's Hamilton.
But most are inspired by Obama's real life as a super powerful woman.
Of course the meme wouldn't be complete without an Adele reference.
The original video is available in full below: