84th Annual Hollywood Christmas Parade: Time, Date, Channel, Preview and How to Watch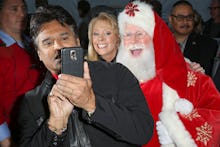 There will be singing, dancing, and stars of stage and screen. There will be marching bands, enormous balloons and at least one celebrity cat on Friday, Dec. 11, when the 84th Annual Hollywood Christmas Parade airs on the CW at 8 p.m. Eastern. Emmy-nominated travel correspondent Lauren McKenzie and Erik Estrada of CHiPs fame will co-host the event, joined by TV personality Montel Williams and actor Dean Cain.  
The first Hollywood Christmas Parade took place in 1928 (the parade was suspended from 1942 to 1944 due to World War II) and inspired Gene Autry's classic Christmas Jingle, "Here Comes Santa Claus," according to SeeingStars.com.  The route covers Hollywood Boulevard and Sunset Boulevard in Los Angeles. The parade was recorded live on Nov. 29 and saw stars, bands, floats and balloons cruising down "the longest red carpet in the world."
Concerts: Performers include Band of Merry Makers — a "group of traveling troubadours who spread holiday cheer through song," according to the parade concerts page, featuring Mark McGrath (Sugar Ray), Natasha Bedingfield (British singer of "Unwritten" fame), Tyler Glenn (Neon Trees), Kevin Griffin (Better Than Ezra) and Sam Hollander (songwriter and producer) — American Idol stars Clay Aiken, Ruben Studdard and Taylor Hicks, India.Arie (whose holiday album, Christmas With Friends, is out now), Daughtry, Sean Kingston (whose most recent album, Back2Life, came out in 2013) and Grammy-nominated songwriter and Broadway actor Ace Young, among others. 
According to the press release, Masters of Illusion magicians Michael Turco, Michel Grandinetti, Titou and Jonathan Pendragon will dazzle the audience with their sleight of hand, and the Beach Boys will be performing a new holiday song, "(You'll Never Be) Alone on Christmas Day."
Celebrity appearances: Viewers can look forward to appearances from 10-time world boxing champ Oscar de la Hoya, Down the Rabbit Hole author Holly Madison, and cast members on some of The CW's hit shows, including Ivonne Coll and Brett Dier of Jane the Virgin, Jonathan Silverman, Josh Zuckerman, Emma Fitzpatrick and Jay Ali from Significant Mother, and Pete Gardner and Gabrielle Ruiz of Crazy Ex-Girlfriend. Telenova actress Adriana Fonseca will make an appearance, along with soap opera actors from General Hospital, All My Children, The Young and the Restless, Days of Our Lives and The Bold and the Beautiful. Who else? Grumpy Cat and, naturally, Santa Claus.
A full list of celebrity guests is available here.
Balloons! Look out for a giant-scale Grinch, Pirate, Scooby Doo, Cat in the Hat, Strawberry Shortcake (the cartoon character, not the dessert), Tom and Jerry, Gumby and Horton, along with more festive floatables in the shape of holiday elves, Christmas tree ornaments and the toy soldier.
Alternate air dates: The Hallmark Channel will air the parade a second time on Dec. 23 at 3 p.m. Eastern.
Here's a preview of Friday's Hollywood Christmas Parade: