This Is the Ultimate Gift Guide for the Drake Lover in Your Life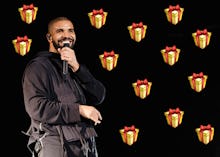 Sure, Aubrey Drake Graham was born in 1986, but 2015 may as well have been the year of Drake. Between the much-parodied "Hotline Bling" video, the record-breaking mixtape release, the feud with Meek Mill, the Serena Williams rumors and the ill-fated Coachella appearance, the Canadian rapper seemed to be everywhere this year. 
Of course, all this high-wattage exposure means that Drake's fan base has grown along with his personal fame. A cursory glance at the "Drake" section of Etsy makes this clear, with thousands of products marketed toward ultra-devoted fans.
To save you time, we've compiled a list of holiday gifts for the most hardcore Drake lover in your life, from the Drake emblazoned to the Drake inspired. The price ranges vary, but one thing's for sure: They're definitely the dreams money can buy.
1. A lint roller
It was the ultimate Drake moment: In April 2014, while sitting courtside at a Toronto Raptors versus Brooklyn Nets basketball game, the Canadian rapper was caught lint-rolling his pants. Was it candid? Was it all an elaborate stunt? We'll never know, but your Drake lover will enjoy recreating the moment with his or her very own lint roller.
Scotch-Brite Lint Roller, $4.99
2. A "Drake for president" mug
You know he'd be better than Trump. Well suited for your Drake fan's desk or kitchen table.
Etsy, $15.99
3. Tickets to New Year's Eve at Fring's, Drake's restaurant
In September, Drake partnered with restaurateur Susur Lee to open the Toronto restaurant Fring's. Featuring an opening attended by the likes of Jaden Smith, the restaurant is offering a special promotion for New Year's Eve dinner. No word if Drake himself will be there, but one can dream.
Fring's, dinner reservations starting at $375 per person
4. A "Just Hold On, We're Going Home" embroidered hoop
This quaint embroidered hoop is perfect as a housewarming gift, and your grandmother will probably approve.
Etsy, $24.93
5. Ice Age: Continental Drift DVD
In 2012, Drake lent his voice to Ethan, Ice Age 4's male wooly mammoth character. As an accompaniment, print out this Vulture story of every single one of Ethan's lines. 
Best Buy, $9.99
6. Drake nail decals
All the better for flipping the bird.
Etsy, $5.00
7. An owl
Drake's OVO Sound record label is currently home to the acts PartyNextDoor, Majid Jordan and ILoveMakonnen, among others. The mascot for the label is an owl — the letters "OVO" resemble an owl's eyes and nose — and the imagery is present on much of its merchandise. Go a step further and buy your Drake superfan an actual owl. It might require a little more care than a sweatshirt, but the exemplary devotion to Drake will be worth it.
Owl stores (?), prices vary. [Editor's note: Owning an owl is illegal in the United States. Mic is not responsible for any legal issues that result from attempting to purchase an owl.]
8. Tom Ford's Tuscan Leather cologne
This pricey spray makes an appearance in "Tuscan Leather," the opening track of Drake's 2013 album Nothing Was The Same. 
Tom Ford, $220 - $535
9. Tom Ford's "Drake" lipstick
For the Drake fan who likes lipstick better than cologne, never fear: Mr. Ford came out with a lipstick shade named after Drake earlier this year.
Tom Ford, $35
10. Tickets to a Toronto Raptors game
The Raptors are Drake's favorite team, and they even have a night devoted to him. Who knows? You might just end up seeing the second coming of the aforementioned lint rolling event.
NBA.com, prices vary
11. Degrassi: The Next Generation DVDs
Drake got his start in showbiz on the Canadian teen soap opera Degrassi as Jimmy, a star athlete who had to use a wheelchair after a school shooting. Relive Drake's acting days with the complete set of DVDs.
Amazon, $219.99
12. A "Worst Behavior" glittery banner
For the best party, this banner is a necessity.
Etsy, $19.00
13. Champagne
Drake's Instagram username is @champagnepapi. Need we say more?
A liquor store near you, prices vary
14. The gray turtleneck sweater from the "Hotline Bling" video
GQ tracked down the iconic gray turtleneck from Drake's "Hotline Bling" video, which is by Swedish clothing brand Acne. Keep warm and honor Drake at the same time.
Acne Studios, $400
15. Drake party balloons
To match your "Worst Behavior" banner, of course.
Etsy, $4.89
16. These Drake socks
What could be better than wearing Drake's face all over your legs?
Etsy, $16.99
17. Tickets to the James Turrell exhibit at MoMA PS1
Though he's denied any connection, artist James Turrell may well have been the inspiration for the "Hotline Bling" video's colorful set. PS 1, the subspace of New York City's Museum of Modern Art, has played host to a permanent James Turrell installation since 1986. Buy your beloved Drake fan a ticket so he or she can star in a low-rent "Hotline Bling" remake.
MoMA PS1, $5 - 10
18. An Acura
Drake alludes to his Acura-owning past in the track "Worst Behavior" from Nothing Was The Same. This is the most expensive item on the list, but if your Drake fan is truly committed, it's worth it.
Acura, prices vary