Connecticut's Governor Just Said He Will Sign Executive Order Restricting Gun Purchases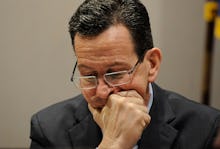 On Thursday, Connecticut Gov. Dannel P. Malloy announced his intention to sign an executive order banning people on federal terrorist watch lists from purchasing firearms. The governor says the legislation would be the first of its kind.
"This should be a wake-up call to all of us," Malloy said in a statement, according to the New York Times. "This is a moment to seize in America — and today I'm here to say that we in Connecticut are seizing it." 
Connecticut has been at the center of the gun control conversation since 2012, when a shooter opened fire on Sandy Hook Elementary School in Newtown, killing 20 children and six adults. Since then, the state has pushed forward some of the country's strictest gun regulations, with Democratic Sen. Chris Murphy among the most vocal on the issue. And last week, Murphy's tweet calling out the ineffectiveness of "thoughts and prayers" summed up everyone's frustration with the government's lack of action. 
In February, Malloy touted the success his state has already achieved in curbing gun-related deaths. In an interview with Time he said, "The states that have done something about it, like my state, we continue to see a precipitous drop in homicides, and crime [is] falling in Connecticut at three times the national average." Still, he said there's a long, treacherous way to go: "There will be more and more events like Sandy Hook ... This discussion is not done."
Still, it seems the federal government looking to make similar reforms. Thursday afternoon, the Associated Press reported that President Barack Obama's advisors are putting the final touches on a proposal that would expand background checks on firearms and seek to close the "gun show loophole" once and for all. But what's stopping Republicans from stonewalling the proposal? It doesn't need congressional approval.