#TheLineAwakens Shows Photos of People Already Lining Up for 'Star Wars' 7 Premiere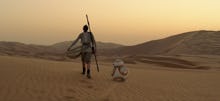 It's safe to say that #TheLineAwakens. There's still a week until the cult space odyssey Star Wars' latest installation, Star Wars: The Force Awakens, comes to theaters, but die-hard fans are already lining up.
The movie will premiere at Los Angeles' TCL Chinese Theater IMAX on Dec. 17, according to the New York Times. Star Wars history resides at the Chinese Theater, which was one of the just 30 theaters that was booked for the very first film in 1977, according to the paper. 
The line for the upcoming film began Saturday and has reached over 100 people, according to the Los Angeles Times. 
"At night you freeze and in the daytime you cook, but you come for the camaraderie and the chance to be a part of cinematic history," fan Erik Murillo told the New York Times. 
Most theaters expect a similarly crazy line for the new film, the New York Times reported. IMAX Entertainment CEO Greg Foster told the Hollywood Reporter that advance ticket sales for the first day were "record-shattering."
While costumes are allowed, masks and lightsabers are banned at some theaters, according to the New York Daily News.
Tickets are still available, but they're selling out fast. The trailer for the film is below: