'Captain Marvel' and 'Wonder Woman' First DC, Marvel Films With Female Superhero Leads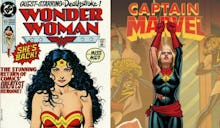 The first Marvel film to feature a female superhero at the helm, Captain Marvel, will certainly help revolutionize the way audiences view women in comics, though it won't be the first film with a badass superhero as the lead who happens to be female. DC's Superwoman is premiering in theaters two years earlier, June 23, 2017; Captain Marvel's premiere date is March 8, 2019, according to IMDb.
Next to nothing is known about both movies, as they're both years away and are being kept under somewhat tight wraps. Wonder Woman will be directed by Patty Jenkins, featuring Gal Gadot as Wonder Woman. Robin Wright, Chris Pine, David Thewlis, Elena Anaya and Lucy Davis are also expected to star in the film, though their characters are unlisted on IMDb (except for Pine's, who will play Steve Trevor). 
Though it hasn't been announced yet who will star as Captain Marvel, Crossmap reports rumors have circulated from Emily Blunt to Jessica Chastain. "No one has approached me as Captain Marvel!" Blunt told Collider in September. "I have received not one phone call about Captain Marvel. I don't know who she is. I'm sorry [laughs]. I don't know comic book characters. They're not my forte."
Chastain, however, seemed to be a tad more willing to take on the challenge. "Absolutely, but for me, in any genre of film that you do — I want to be part of it," Chastain told IGN, according to Crossmap. "So if I'm doing a superhero film, I want to wear a costume, I want a fight scene, I don't want to be the girlfriend or the civilian that's taking care of superheroes or whatever. I want to be part of the action. So if they came a-calling, that sounds very cool."
No matter who plays the role of Captain Marvel, both films will have profound effects on the film industry, which could certainly learn a thing or two from comic book's consistent elements of diversity and inclusion. "We think this could bring an under-represented female audience to this genre that frankly has not been served well in the past and that could be exciting," Jeff Bewkes, the chairman and CEO of Time Warner — which owns Warner Bros. the studio producing Wonder Woman — told Variety on Tuesday.