This Lego Chicken McNugget Dispenser Is the Best Thing Since, Well, Chicken McNuggets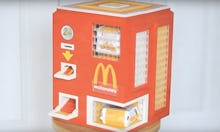 McDonald's revealed in 2014 that its chicken nuggets are made with over-processed chicken slime — but that's irrelevant now that this Lego McDonald's Chicken Nugget Machine spews out boxes of the nuggets and sauce packets, putting a fun and innovative twist on poisoning the body with delicious crap.
The Lego-building team behind popular YouTube channel Astonishing Studios uploaded a tutorial for their latest creation last week: a machine built entirely from Legos that dispenses McDonald's chicken nuggets and sauce with the insertion of 2 Euros. (The Lego geniuses built the machine using Lego Mindstorms, a toolset for building and programming Lego robots.)
When the proper coin is dropped into the machine's slot, it triggers a motor that pushes out the stored boxes of chicken nuggets and sauce packs in seconds. Don't worry, the coins don't disappear into a a deep abyss. A coin bank located in the back of the machine keeps the precious money safe.
"I was thinking of the next LEGO machine when I realized you can never fail with McDonald's," the creator wrote in a description for the tutorial. "The McNugget is the greatest invention since the LEGO brick itself, so I hope you're lovin' it." It doesn't appear that this item is currently available for sale, but Astonishing Studios sells a few other Lego machines on its site.
Watch the full tutorial below: