Military College Hosts Holiday Skit With Students Dressed Like the Ku Klux Klan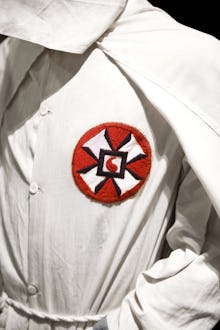 Cadets at a military college in South Carolina were suspended Thursday after photos of their alleged Christmas skit emerged on social media, according to a statement on the school's Facebook page.
This is what their outfits looked like:
The Citadel is the state-supported Military College of South Carolina. The attire worn by its students pictured above appeared to reference the Ku Klux Klan — though the school said "preliminary reports" suggested it was part of a "Ghosts of Christmas Past" skit.
"These images are not consistent with our core values of honor, duty and respect," the Citadel's Facebook post read.
A group of the college's minority alumni got wind of the photos when they were posted online this week. The students have not been publicly identified, but their actions have been roundly condemned by both alumni and school administrators. Suspension proceedings have begun for more than a dozen participants, according to VICE News.
The incident comes less than six months after white supremacist Dylann Roof shot and killed nine black parishioners at the Emanuel African Methodist Episcopal Church in Charleston, a 10-minute drive from the Citadel, on June 17.
The Citadel has come under fire for racist incidents in the past. In 1986, the FBI investigated an incident where five white students dressed in KKK garb burst into the dorm of a black student, shouting racial slurs, and threw a burning paper cross at him. The school was not found liable.
In 1997, CBS aired a 60 Minutes episode documenting the history of racism at the Citadel, including the liberal display of Nazi imagery in a school supply locker.
In both cases, the school insisted it did not tolerate racism. The conversation around racism and racist imagery reached a fever pitch this summer in South Carolina, after the church shooting, resulting in the removal of the Confederate flag from the statehouse grounds, where it had been for 54 years.