'Batman v Superman' Movie: Plot, Trailers and News For March 2016 Release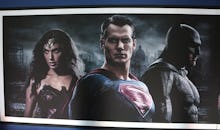 Audiences are bracing for the ultimate superhero mashup — Batman v Superman: Dawn of Justice is set to arrive in theaters March 25, 2016, and will bring together two of the biggest heroes in the DC Comics universe.
Batman v Superman: Dawn of Justice will star Ben Affleck as Batman (aka Bruce Wayne) and Henry Cavill as Superman (aka Clark Kent). Cavill also played Superman in 2013's Man of Steel. 
In a long-awaited film-debut for the character, Israeli actress Gal Gadot will star as Wonder Woman. Amy Adams will play Superman's love interest, Lois Lane, and Jesse Eisenberg will play bald-headed villain Lex Luthor.
According to the film's official website, the plot will involve a confrontation between the two heroes after Batman, "fearing the actions of a god-like Super Hero left unchecked," travels from his home in Gotham to Metropolis to meet Superman in person.
In true blockbuster fashion, however, there's a lot more going on. The official synopsis hints at the epic battles in store: " ... with Batman and Superman at war with one another, a new threat quickly arises, putting mankind in greater danger than it's ever known before."