Ex-Oklahoma City Cop Daniel Holtzclaw Found Guilty of Rape and Other Charges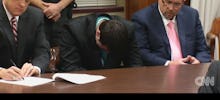 Daniel Holtzclaw, a former Oklahoma City police officer, was found guilty Thursday of rape, sexual battery and forcible oral sodomy. Holtzclaw faced a total of 36 counts, of which a jury convicted him of 18. 
A camera focused in on Holtzclaw, 29, as the verdict was read, showing him rocking in his chair and shaking his head. At various points he held his head in his hand and sobbed.
The deliberations took roughly 40 hours and were met without objection by Holtzclaw's former employer. "We are satisfied with the jury's decision and firmly believe justice was served," police Chief Bill Citty said in a statement, according to the Associated Press.
All 13 of the women who leveled allegations against Holtzclaw were black, ranging in age from 17 to 50 and hailing from one of Oklahoma's poorest neighborhoods. "I didn't think anyone would believe me," one of the victims said at the trial, according to CNN. "I'm a black female." Holtzclaw was terminated by the Oklahoma police in January after an internal investigation.
The case drew particular scrutiny from civil rights groups, which took exception to the all-white jury, despite the local population being 40% minority. Activists said the behavior was part of a pattern of negative police engagement in black communities, and specifically aimed at black women. 
Many also slammed the scant coverage of the trial, which, critics argued, would have received far more attention had the victims been white. Activists expressed their disappointment Tuesday in a demonstration outside the courthouse.
"Do these women's lives have value? Are women — women like this — able to be raped without consequence?" Sojourner's Courtney Hall Lee wrote Thursday, hours before the verdict came down.
"When we look at how police and state violence affects black women, it includes black women and girls getting killed," Black Youth Project national director Charlene Carruthers told Mic in May. "It also includes black women and girls being sexually assaulted, harassed and beaten by officers as well. We also must recognize other types of violence or else we miss parts of the population."
 "I didn't think anyone would believe me. I'm a black female."
The phenomenon of police sexual misconduct is widespread in forces around the country. In November, an Associated Press report found that between 2009 and 2014 roughly 1,000 officers were barred from working in law enforcement due to sex crimes. 
Holtzclaw was remanded to the Oklahoma county sheriff with sentencing scheduled for Jan. 21. The 18 charges carry a maximum of 263 years in prison. "We're going to ask the judge to make sure that this defendant never sees the light of day, and we're going to ask him to run consecutive, every count," said District Attorney Dave Prater, CNN reported.
Correction: Jan. 21, 2016