Arkansas Supreme Court Blocked Same-Sex Couples From Being Listed on Birth Certificates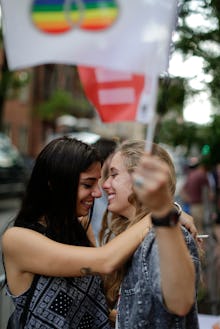 With a 5-2 vote, the Arkansas Supreme Court on Thursday granted a temporary stay on a ruling which allowed same-sex couples to appear on their children's birth certificates statewide.
The stay affects Pulaski County Circuit Judge Tim Fox's Dec. 1 ruling which gave three lesbian couples fighting the Arkansas Health Department Vital Statistics Bureau the right to be listed as the parents of their respective children. 
In his decision, Fox argued that withholding the names of same-sex parents from from their children's birth certificates is unconstitutional, citing the Supreme Court's June ruling that declared the ban on same-sex marriage unconstitutional.
"[The] decision affords the plaintiffs, as same-sex couples, the same constitutional rights with respect to the issuance of birth certificates and amended birth certificates as opposite-sex couples," Fox wrote in his Dec. 1 decision, Reuters reports.
Arkansas Attorney General Leslie Rutledge filed an appeal against Fox's ruling, arguing that allowing same-sex couples on birth certificates was incompatible with existing state statutes, making the law ambiguous for birth registrars.
Arkansas Supreme Court declared on Thursday "the best course of action is to preserve the status quo with regard to the statutory provisions while we consider the circuit court's ruling," Reuters reports.