Deaf Children's Drawings Turned Into Clothes for What Might Be Sweetest Fashion Show Ever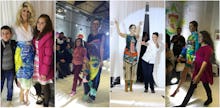 If this doesn't brighten your Friday morning, we don't know what will. 
In Albania on Dec. 3, designer Mirela Nurce and editor of Living magazine Gentian Minga teamed up for a special fashion show. The models were professionals, including Krist Zicishti and Stela Kotri. The designers, on the other hand, were kids: The outfits were based on drawings by kids from the Institute of Deaf Students in Tirana, Albania.
The students, who ranged in age, walked the runway alongside the outfits, made by Nurce, that bore their designs, including wool and silk dresses, coats, purses, and even umbrellas.
The show took place on International Day of Persons with Disabilities, created by the United Nations. The runway show was presented with the support of the United Nations Development Programme.
The point, as Minga noted on BoredPanda, was simple: "People with disabilities, but with unlimited talents!"
It's just the latest small example of fashion acting as a positive showcase for the talents of those with disabilities. Earlier this year, Gap cast four girls with disabilities, including Kayla Kosmalski, a nine-year-old girl with Down syndrome, for a "show" in its Miami store. One month later, 18-year-old Madeline Stuart, an 18-year-old model with Down syndrome, walked the runway at New York Fashion Week. 
All of the girls' disabilities were different, yet so were all of their many talents — something more and more fashion insiders like Minga and Nurce are realizing when they take efforts, large and small, to make fashion a more inclusive place.
h/t BoredPanda