These Fashionable Sneakers Are Made From a Surprising Material — Ocean Waste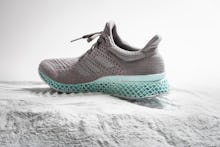 Adidas has a creative new way to fight pollution in Earth's oceans: make shoes of out actual ocean garbage.
The innovative kicks are a collaboration between the sporting goods company and Parley for the Oceans, an organization that raises awareness of the threats to our oceans — chief among them, the millions and millions of pounds of plastic that end up in the oceans, entangling whales and harming fish and birds that ingest it.
The futuristic-looking shoe, presented at the recent COP21 climate talks in Paris, features an upper portion made from "ocean plastic content," according to a release. The midsole is 3-D printed and made from recycled polyester and gillnets, a type of fishing net known to harm sea turtles, whales, dolphins and sea lions. 
Eric Liedtke, an Adidas group executive board member responsible for global brands, said in a statement "the industry can't afford to wait for directions any longer," and that Adidas and Parley for the Oceans have "started taking action and creating new sustainable materials and innovations for athletes."
"The 3-D printed ocean plastic shoe midsole stands for how we can set new industry standards if we start questioning the reason of what we create," Liedtke said. "We want to bring everyone from the industry to the table and create sustainable solutions for big global problems."
Sadly, the shoe is just a prototype for now, but Adidas is taking other measures to reduce plastic waste. The company eliminated plastic bags from its retail stores earlier this year and will stop using plastic microbeads in its body-care products by the end of 2015.
"And this is just the start," Jochen Denninger, the Adidas brand's vice president for strategic partnerships, wrote in a blog post describing the microbeads initiative. "I am sure that through our partnership with Parley we will increasingly support the reduction of ocean plastic pollution and come up with great products and great alternatives to the use of conventional plastic."