Here Are the Movies Coming Out This Weekend in the US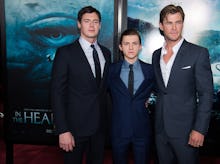 While there's still another week until Star Wars: The Force Awakens overtakes theaters, this weekend will still see a variety of movies hitting United States theaters, including Alê Abreu's 2013 animated Brazilian film Boy and the World and the comedy Don Verdean featuring Danny McBride. Both come out Friday. Steve Carell can be caught in the drama The Big Short alongside Ryan Gosling. 
Boy and the World is Abreu's second feature film and took three years to make, he told Indiewire in an interview published Thursday. Abreu and his team of 15 people had to create their own production process in order to efficiently handcraft and also compute the animation, which follows the childhood memories of a boy. "I had this feeling of freedom and possibility like if I was this boy," he told Indiewire. "I was using the boy's freedom to create this film." 
Chris Hemsworth will be starring in the Moby Dick-inspired In the Heart of the Sea, also coming out Friday. Alongside Hemsworth are Benjamin Walker and Cillian Murphy. 
Director Ron Howard has previous experience filming with an aquatic theme. His 1985 movie Cocoon had an alien swimming pool. Howard compared the whale in his movie to be more akin to King Kong than Jaws, the Wall Street Journal reported. Charles Leavitt of Blood Diamond wrote the screenplay for the movie, which cost $100 million, according to the Verge.
Here's a list of movies coming to U.S. theaters this weekend, according to IMDb. 
Below are trailers for some of the movies coming out this weekend.