This Man Did Something Incredibly Sweet for His Wife When She Was Dealing with Depression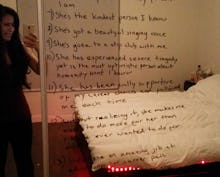 In a heartwarming example of a spouse providing emotional support, one man's sweet gesture for his depressed wife is going viral. 
Earlier this week, Molly Murphy, who goes by the name mollywho on Imgur, told followers that her life has been more challenging than usual. Between family issues, work stress, financial worries and a general feeling of hopelessness, the load has been keeping her down.
"I've not been the easiest person to deal with," she wrote. "In fact, sometimes I've lost all hope and even taken my frustration out on my new husband. But he somehow forgives me every time. I have a long journey ahead of me, and I know he probably realizes I'm depressed. But he holds my hand, and he tries his best."
What happened next just miiiiight make your Grinchy heart grow three sizes.
"Today when I came home from a trip to SF, I flopped onto my bed in tears," she continued. "I looked to my left, and saw these words painted all across my mirror."
To cheer her up, Molly's husband essentially wrote her a listicle of reasons why she's awesome:
Titled "Reasons I love my wife," the list includes 15 cute bullet points, ranging from "she is my best friend" to "she makes me laugh, every day" to "she's got a beautiful singing voice." It currently has over 700,000 views and more than 300 comments from users saying "He's a keeper!" and "Hang in there kid. You got yourself a good one."
Murphy wrote that the tiny gesture served as a touching reminder of how lucky she is to have such a supportive sidekick in her life.
"He knows I struggle to see good in the world, and especially the good in myself. But here it is," she wrote. "A testament and gesture of his love. Damn, I needed it today." She added that she realizes "mental illness [cannot be] cured by nice words on a mirror" but that depressed peoples' loved ones should still strive to "show them kindness and remind them things can and WILL get better."
It has been well-documented that depression can be a major strain on relationships of all kinds, and when you consider that it affects about 14.8 million American adults per year, it's no wonder so many people are relating to Murphy's touching tale of her husband's kindness.
Anyone else feeling a little verklempt? Talk amongst yourselves. 
h/t Cosmopolitan