Videos of "Hoverboards" Catching Fire, Exploding May Mean It's Time to Rethink That Gift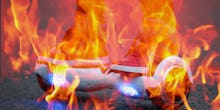 "Hoverboards," those ubiquitous, futuristic two-wheeled machines that don't actually hover, have been pulled and banned by an increasing number of retailers, cities and airlines. Why? Probably the growing safety concerns following a wave of recent media showing hoverboards exploding.
The production of hoverboards — once deemed the hottest gift of the year by USA Today — has been difficult to regulate, prompting the U.S. Consumer Product Safety Commission to further investigate them.
"The hoverboard does not fall into categories where there are regulations," said president of Safety Research and Strategies, Inc., Sean Kane, according to Business Insider. "The safety and fitness of them is really unknown." 
Since September, about 20 people have been hospitalized from hoverboard-related incidents, according to the Consumer Product Safety Commission. What often happens is sudden combustion without explanation. A November explosion in Louisiana involved a 12-year-old boy and his "Fit Turbo" board, bought from Amazon; the accident set his entire home on fire, according to WGNO. Similar cases have occurred in malls and homes across the nation.
Online retailer Overstock announced its pulling of hoverboard-like products from its digital shelves on Dec. 9, offering refunds to those who have already purchased one. 
Delta Air Lines, American Airlines and United Airlines announced bans this week as well. Policies are going into effect soon if not already, according to NPR.
"Delta reviewed hoverboard product specification and found that manufacturers do not consistently provide detail about the size or power of their lithium-ion batteries," Delta said in a statement on Thursday. "While occurrences are uncommon, these batteries can spontaneously overheat and pose a fire hazard risk."
Last month, New York City police said they would fine riders up to $500, the Guardian reported. Hoverboards reside in a gray area: Technically, they're motor vehicles, but they're unable to be registered with the Department of Motor Vehicles, an NYPD spokesman told the Guardian. 
Hoverboards should be powered by lithium-ion batteries, but many have been found to include counterfeits, ABC13 reported. Inspectors in the U.K., where hoverboards are already illegal, examined 17,000 mostly Chinese-made hoverboards and confiscated 88% of them, citing "noncompliant plugs without fuses" that can cause dangerous overheating, according to the Verge. 
Chinese manufacturers have been racing to produce knockoff versions of the popular toy for Western consumers, BuzzFeed reported. 
A hoverboard can go for up to $2,000, according to the International Business Times.