Anonymous Just Declared War on Donald Trump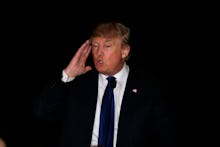 One month after the Islamic State group, also known as ISIS, ISIL or Daesh, waged a deadly terror attack on Paris, the hacktivist group Anonymous has organized a full day of ISIS trolling. All are invited to participate in heckling ISIS online and in several planned demonstrations in the United States and Europe. 
Yet ISIS isn't Anonymous' only recent target — the informal hacker collective has also declared war on Republican presidential hopeful Donald Trump in the wake of his recent comments about Muslims in the U.S.
"Donald Trump, it has come to our attention that you want to ban all Muslims to enter the United States," a man in a Guy Fawkes mask says in a video released Wednesday. "This policy is going to have a huge impact. This is what ISIS wants. The more Muslims feel sad, the more ISIS feels that they can recruit them."
"Donald Trump, think twice before you speak anything," says the masked spokesman. "You have been warned."
As part of the #OpTrump hacking campaign, Anonymous targeted Trump's website trumptowerny.com on Wednesday night in a distributed denial of service attack, according to the International Business Times. The site was reportedly down for hours.
On Monday, Trump issued a statement calling for a full-on ban of all Muslims entering the U.S. 
"Without looking at the various polling data, it is obvious to anybody the hatred [against America] is beyond comprehension," Trump said in the statement. "Where this hatred comes from and why, we will have to determine. Until we are able to determine and understand this problem and the dangerous threat it poses, our country cannot be the victims of horrendous attacks by people that believe only in Jihad, and have no sense of reason or respect for human life."
The comments drew fire and fury across nations and party lines, as Republican and Democratic figureheads alike criticized the candidate for his extremism. Even British author J.K. Rowling had something to say about Trump's comments: In a tweet, she likened the Republican candidate to Voldemort, the villain of her Harry Potter series.
"I wrote something today that I think is very very salient, very important and probably not politically correct, but I don't care," Trump said in regards to his proposed ban on Muslim immigration, addressing a crowd at a rally in South Carolina on Monday, according to NPR.
Anonymous' declaration of war on Trump comes at a complicated point in time for Americans. According to the New York Times and CBS, the last time Americans were as afraid of the likelihood of a terror attack as they are now was in the aftermath of 9/11. Consequently, that fear has helped garner support for Trump's extremest political response to terrorism.
According to the most recent polls from CNN/ORC, Trump is the top-polling Republican candidate, with 33% of GOP voters' favor. The second-highest-polling candidate is Texas Sen. Ted Cruz, who is polling at 20%, followed by Ben Carson at 16%.
Get the news everyone's talking about delivered straight to your inbox every morning by signing up for MicCheck Daily.