'X-Men: Apocalypse' Official Trailer: Watch Jennifer Lawrence, James McAvoy in New Preview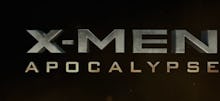 Mammoth film production studio 20th Century Fox released the official trailer for X-Men: Apocalypse on Friday, and internet users jumped at the chance to preview the upcoming film. As of mid-morning on Friday, the preview had already racked up more than 100,000 views on YouTube. Fans of the Marvel Comics series and prolific blockbuster X-Men films can catch the upcoming fantasy action flick in theaters nationwide on May 27.
The official X-Men Movies Twitter handle teased the trailer with a tweet on Thursday:
Here's the full trailer:
Director and producer Bryan Singer, who also directed X-Men: Days of Future Past, released in 2014, spearheaded production on the forthcoming installment of X-Men. "Apocalypse, the first and most powerful mutant from Marvel's X-Men universe, amassed the powers of many other mutants, becoming immortal and invincible," reads an explainer on the film's trailer, which was posted to YouTube. "Upon awakening after thousands of years, he is disillusioned with the world as he finds it and recruits a team of powerful mutants, including a disheartened Magneto (Michael Fassbender), to cleanse mankind and create a new world order, over which he will reign." 
"As the fate of the Earth hangs in the balance, Raven (Jennifer Lawrence) with the help of Professor X (James McAvoy) must lead a team of young X-Men to stop their greatest nemesis and save mankind from complete destruction," the plot summery continues. Other notable cast members include Oscar Isaac of Drive and A Most Violent Year; Nicholas Hoult (About a Boy, Mad Max: Fury Road); Rose Byrne (X-Men: First Class, 28 Weeks Later); Tye Sheridan (Mud, The Tree of Life); Sophie Turner (Game of Thrones, Barely Legal) and Olivia Munn (Magic Mike, Iron Man 2).