'The Revenant' Starring Leonardo DiCaprio: Plot, Cast and Trailer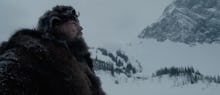 On Thursday, Leonardo DiCaprio earned himself a Golden Globe nomination, his 15th major award nomination if you also count the Oscar's, for his role in The Revenant, according to the Los Angeles Times. The film, set to be released on Dec. 25, features Tom Hardy and Will Poulter alongside DiCaprio. The crew had to endure some gruesome acting, Vanity Fair reported. It may be worth it though, as some suspect it could win DiCaprio his first Oscar, according to Vanity Fair.
The Revenant is directed by Alejandro Gonzalez Inarritu, whose Birdman won several Academy Awards earlier this year. Emmanuel Lubezki, also from Birdman, was the cinematographer. DiCaprio told Yahoo in October that the two were very specific about each shot, using cables and many rehearsals for precision. 
"It's going to be one of the most unique film-going experiences that audiences have seen in modern times," DiCaprio told Yahoo, also calling it an "existential journey." 
The Revenant plot: The film is set in the 1820s, and DiCaprio plays huntsman Hugh Glass, who seeks survival and revenge on those who left him after a bear attack in the wilderness, Yahoo reported. Glass is also being chased by tribesmen. 
As the plot insinuates, DiCaprio and the other actors filmed some tough scenes in ice-cold Canada and Argentina, where DiCaprio had to eat raw meet and sleep in animal carcasses. 
DiCaprio is up against Bryan Cranston in Trumbo, Michael Fassbender in Steve Jobs, Eddie Redmayne in The Danish Girl and Will Smith in Concussion for the best actor in a drama Golden Globe.
Here's the trailer for The Revenant below: