Willow Smith's Surprise New Album Just Dropped — Here's the Track List and How to Stream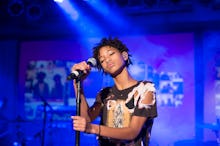 Perhaps taking a queue from Beyoncé, 15-year-old Willow Smith, daughter of Will Smith and Jada Pinkett Smith, sneak-released her debut studio album on Friday. The record is titled Ardipithecus, which is a nod to evolution, both historical and personal, according to the young artist who goes by "Willow" on stage. The record is available for download via iTunes for $9.99. 
On Dec. 4 and again on Wednesday, Smith teased the surprise release with two minimalist tweets that flagged Friday as a date to watch and later shared the album art to her Instagram account.
"Ardipithecus Ramidus is the scientific name of the first hominid bones found on Earth," Smith explained in post to Instagram. "I wanted to name my musical compilation after it because while I was making these songs I was in such a transitional state. Digging deep in the soil of my heart and finding bits and pieces of my ancient self that tell stories, which end up being the lyrics to the songs."
Smith began her musical career in earnest in 2010, according to her biography, after powerhouse rapper Jay Z's record label Roc Nation signed the prodigy vocalist. That year, at the age of 10, Smith released her debut single, "Whip My Hair." A colorful video for the hit single followed on Oct. 18, 2010:
On Ardipithecus, Smith sinks deeper into abstractions than ever before. Considering her canon of recorded tracks to date, the debut studio record is highly experimentalist by comparison. Here's the album in full, which is streaming via Spotify:
Smith has surfaced no shortage of content and has collaborated with some big-time artists in her yet brief career. Among Smith's notable collaborators is Nicki Minaj, who in 2011 featured on Smith's "Fireball." Smith was 11 years old when the video was released.
As if all that weren't impressive enough, the recording artist is also a talented actress in her own right. In 2007, Smith starred in I Am Legend alongside her father and has since played roles in a handful of films, including Kit Kittredge: An American Girl, Madagascar: Escape 2 Africa and the television series True Jackson, VP.
This isn't the first time Smith has surprised fans with a sneak release. In 2014, the then-14-year-old released the song "3" unannounced. That effort, a faraway precursor to Ardipithecus, laid the groundwork for Willow's debut record in that it offered fans an early indication that the artist's sound was taking a hard pivot.