Postmodern Jukebox Remixed R. Kelly's "Ignition (Remix)" As a 1940s Swing Single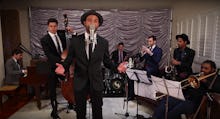 Saturday would have been Frank Sinatra's 100th birthday. To help celebrate the King of Swing's lasting influence, the Postmodern Jukebox, a musical collective known for taking modern hits and remixing them into antiquated but beloved styles, has released a song remixing one of the most famous remixes of all time: R. Kelly's "Ignition (Remix)."
The group, fronted by up-and-coming pop singer and former American Idol finalist Rayvon Owen, reimagines the song as a 1940s Sinatra-style swing hit. It is by far the classiest way to listen to one of the trashiest songs in history.
"For this arrangement, I want to capture the hard swinging feel found in so many Sinatra arrangements and combine it with elements of hiphop and modern day R&B," Scott Bradlee, the musician behind the Postmodern Jukebox, said in a post on the collective's website. "If you listen to the horns carefully, you'll hear a bit of Nelson Riddle and — in the breakdown — a bit of Dr. Dre. Although those two might seem unrelated at first, they were both responsible for creating a production style that came to define a genre."
It's far from the first history lesson the Postmodern Jukebox has blessed us with. They recently did up Tears for Fears' "Mad World" as a vaudeville ballad, the White Stripes' "Seven Nation Army" as a New Orleans dirge and Destiny's Child's "Say My Name" as a '60s soul ballad. 
Listen to R. Kelly's original remix below and see how the remix to the remix of "Ignition" stacks up.