'Transparent' Creator Jill Soloway on Why Women Make Great Directors: "It's Dolls"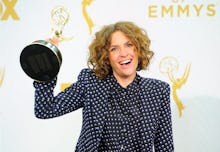 Writer and director Jill Soloway's Emmy-winning Amazon series Transparent dropped its second season today, bringing the Pfefferman clan back into fans' lives for 10 more episodes. The creator talked to the New Yorker to mark the premiere occasion — and nailed a truth about women directors in the process.
"We all know how to do it," she says in the profile. "We fucking grew up doing it! It's dolls. How did men make us think we weren't good at this? It's dolls and feelings. And women are fighting to become directors? What the fuck happened?"
Obviously, not all young girls play with dolls. Toys are slowly becoming more gender-neutral, but for a 50-year-old woman like Soloway, she and her friends likely did play with a lot of dolls growing up. As Soloway puts it, that was the best training possible for her career.
Women directors are sorely underrepresented in Hollywood, which leads to fewer quality roles for women in front of the camera. Soloway's series, which tells the story of a trans woman's late-in-life transition and features bravado performances from women like Judith Light, Gaby Hoffman and Amy Landecker, is proof positive that women do hire women.
Plus, as Soloway argues in the New Yorker piece, women have the skills. In her case, they're impressive skills. She even won an Emmy for them, in a field where her competitors looked remarkably unlike her.
Soloway is no stranger to speaking up about what she cares about. During said Emmy speech, she spoke about transgender rights in America. "We don't have a trans tipping point yet," she said at the time. "We have a trans civil rights problem."
So Soloway taking part in the fight for more female directors makes total sense. Hopefully, thanks to the success of women like her, Hollywood will take notice. Perhaps next time Soloway wins an Emmy, she won't be the only woman in the frame.