CNN December Republican Debate 2015: What You Need to Know About Tuesday's Debate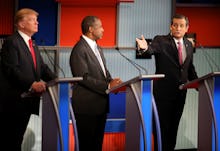 Tuesday marks the fifth Republican debate in the long lead-up to the 2016 Presidential election, and the last time the GOP candidates will gather on stage to field questions from moderators before the election year debuts. CNN will host the debate at the Venetian in Las Vegas, and the main event will begin at 8:30 p.m. Eastern. An undercard debate will precede the main debate at 6 p.m. Eastern. CNN will be livestreaming footage of the event on Tuesday. 
Which candidates are debating: In order to qualify for the main debate and not the undercard event, CNN requires that candidates be polling on average at 3.5% nationally or at 4% in Iowa and New Hampshire. By those standards, Tuesday's main debate could see nine candidates on stage: frontrunner Donald Trump, Texas Sen. Ted Cruz, retired neurosurgeon Dr. Ben Carson, Florida Sen. Marco Rubio, former Florida Gov. Jeb Bush, Ohio Gov. John Kasich, Kentucky Sen. Rand Paul, former CEO Carly Fiorina and New Jersey Gov. Chris Christie.
According to the most recent poll data from CNN/ORC, Trump is leading the GOP pack with 33% of the party's primary voters' favor. Texas Sen. Ted Cruz follows Trump in the polls at 20%, followed by Carson, who is polling at 16%.
CNN television news anchor Wolf Blitzer will be the night's leading moderator. 
Disgruntled murmurings from Trump about how CNN has covered his campaign had some wondering if the real estate mogul would be absent from the debate. However, Trump isn't willing to risk an absence if it could cost him his place in the polls.
"When you're leading in the polls, I think it's too big of a risk to not do the debate," Trump told the Washington Post. "I don't think I have the kind of leverage I'd like to have in a deal, and I don't want to take the chance of hurting my campaign. So, I'll do the debate."
Meanwhile, Trump is battling no shortage of criticism for recent anti-Muslim rhetoric after a statement on Monday proposing a ban on all Muslim immigration to the U.S. The presidential candidate not only drew fury across party lines, but, this week alone, J.K. Rowling compared the business tycoon to Harry Potter supervillain Voldemort, the hacktivist group Anonymous declared a "War on Trump" and an elderly lady took a stand against the GOP candidate's extremism.