Bill Murray Lives the Rockstar Life More Completely Than Most Musicians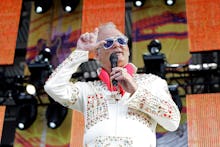 The Bill Murray story exists in its own category of pop culture lore.
Almost everyone who meets him comes away with an amusing tale. When kegs are rubbed at house parties, the chances are a high Murray will appear, like a hipster genie. Perhaps he'll do the hosts' dishes. Or he'll steal the show at a music festival or benefit with a legendary karaoke session. The actor opens rock concerts with incredible enthusiasm. His recent Christmas special A Very Murray Christmas was full of instant classics — and while his skills aren't exactly Rock and Roll Hall of Fame-worthy, his complete embrace of the rock star life is.
Only a handful of celebrities and musicians seem willing to put aside their public relations image maintenance in 2015, to walk among the people and get wild. Murray's fuck-it-all attitude, combined with his willingness to dress loud, sing loud and party hard, truly makes him one of the last living rock stars who never actually played rock music professionally. However, as the '70s and '80s punk movement showed the world, you don't actually have to be good at playing an instrument to be a rock star.
Here's a rundown of some of his finest musical moments:
The time he played "Crossroads" with Eric Clapton
When opening Eric Clapton's "Crossroads" in 2007, Murray claimed he only knew one song on guitar: Van Morrison's "Gloria." He treated the crowd to a pretty damn decent rendition — so he was invited back in 2010, this time attempting a little rougher version of The Who's "My Generation." Luckily, Clapton was there to step in and save it from total ruin.
The time he bartended at SXSW and refused to serve anything but tequila
In 2010, Bill Murray staged a SXSW coup, taking over the Shangri-La's bar in Austin, Texas. He reportedly walked in with the RZA and the GZA of Wu-Tang, whom Murray had already collaborated with previously for the 2003 film Coffee and Cigarettes. Behind the bar, Murray refused to pour patrons any kind of shot except tequila. Murray reportedly got GZA so drunk, he was almost too intoxicated to perform. Murray attended SXSW last year as well, and his presence created its own stories.
The time he gave John Mayer the best possible intro while dressed as Elvis Presley
"I had to come back," Murray says, deepening his voice to mimic the King's in the above video, introducing the John Mayer Trio. "I was real happy and content up there with Baby Jesus, but when I heard it was Christmas I had to show up." Murray has a thing for dressing up as legendary musicians. However, this one was downright tame compared to some of his others.
The time he appeared on David Letterman dressed as Liberace
Murray was David Letterman's first-ever guest on the Late Show. When it came time to celebrate the show's 20th anniversary, Murray returned in a grand fashion, dressed as the flamboyant pianist Liberace. He presented Letterman with a small gift to show his affection — a massive billboard of Murray's own face and name with the fine print: "... Wishes Dave a Happy 20th Anniversary." During the show, he also serenaded Letterman with a rendition of Dolly Parton's "I Will Always Love You."
The time he starred in an indie artist's music video
When filming her music video for the song "Rooftop" back in 2011, singer Emily Hearn connected with Murray quite by chance. Her manager, Mark Bryan, knew the actor and mentioned in passing they would be shooting a video in Charleston, South Carolina, where Murray lives. When Murray heard the song, he loved it and said he needed to be a part of the production. He appears in the video's first shots and toward the end, playing a snare drum and dancing to the easy tune.
The time he was Questlove's most dedicated fan
Questlove, DJ and drummer for the legendary Roots crew, tells an excellent Murray story that proves the actor's unparalleled party stamina. "Bill Murray strangely followed my DJ tours, like three of them in three random spots in Brooklyn," Questlove told Rolling Stone in 2014. He spotted Murray in the crowd, but didn't actually believe it was him until the party was over and he got a chance to confirm it with his own two eyes. 
"He was the last guy to leave, every time," Questlove added. "That was the strange part. It was a party of one thousand people and when it came down to 7 a.m., he was still there."
The time he played tambourine for Prince
After Saturday Night Live's 40th anniversary show, the cast and guests moved to the Plaza Hotel to hold one of the greatest after-parties of all time. Prince played a set, assisted by Ariana Grande, Debbie Harry, HAIM, Miley Cyrus, Sir Paul McCartney and Taylor Swift. Topping it all off was Murray on the tambourine, quietly slaying. 
The time he and award-winning radio host Lou Brutus crashed a Brooklyn house party
Lou Brutus turned his Murray story into quick little musical number back in October. He describes getting drunk with Murray, hearing a party from the street and climbing up a fire escape to join it. While there, they pulled a classic Murray move: doing the host's dishes. 
"Meeting Bill Murray is like seeing a UFO," Brutus said of the story, according to I'm Music Magazine. "You tell people about what happened, they'll think you're a crackpot. Bill lets you know to expect that, so it's all good ... Whether or not listeners believe it happened to me or not is totally up to them. It just doesn't matter, it just doesn't matter, it just doesn't matter."
The time he sang a Christmas song with Phoenix
With the help of the band Phoenix, Murray recorded the perfect anthem for all those unable to be with their families this Christmas: a cover of the Beach Boys' "Alone on Christmas." The band got their own Murray story out of the experience, which the band's frontman Thomas Mars shared in a recent Beats One Radio interview. "He's a great guy," Mars said. "Every Bill Murray story is amazing. And the truth is when you spend 10 minutes with him, they're 10 really good minutes." All proceeds from the track are set to go to UNICEF.
The numerous times he's performed karaoke on- and offscreen
Karaoke has been an integral part of many of Murray's films. He's got his famous scene in Lost in Translation, singing Roxy Music's "More Than This." He promoted St. Vincent this fall with a scene of him singing Bob Dylan's "Shelter From the Storm." There's a karaoke scene in Rock the Kasbah too. 
He's sings with the same enthusiasm in real life as well. To kick off the Toronto Film Festival in 2014, he grabbed the mic to sing a few verses of Prince's "Raspberry Beret." In 2012, he sang Looking Glass's "Brandy (You're A Fine Girl)" alongside Clint Eastwood, totally stealing the show.
The time he performed the "Love Theme from Jaws"
Saturday Night Live has been full of excellent musical numbers over the years, and Murray has appeared in the helm of many as Nick the Lounge Singer. Over the years he's sung several classics, including penning lyrics to the Star Wars theme in 1978 and serenading the show's musical guest Linda Ronstadt with a medley over her own hits. At the SNL 40 event, he added another hit to the vaults with the hilariously melodramatic "Love Theme from Jaws." It's some of Murray's finest musical debauchery, of a caliber absolutely deserving celebration in some of music's most lauded halls of fame.
The time the world believed he was included Wu-Tang Clan sales contract to steal back the single copy of their 'Once Upon a Time in Shaolin'
Wu-Tang fans began a very public mourning across Twitter and Reddit last Wednesday when the millionaire who bought Wu-Tang Clan's mythic Once Upon a Time in Shaolin revealed himself as none of the other than pharma bro Martin Shkereli, also known as "the most hated man" on the internet. The news took on a very different tenor Thursday, however, when a snapshot of a fake contract began to circulate online. 
The forgery included a very special, very silly clause that read "the seller may legally plan and attempt to execute one heist or caper to steal back Once Upon A Time In Shaolin." That heist, according to the prank tweet, could only be executed by one of the nine active Wu-Tang Clan members — or by Murray.
While it was a joke, the fact that so many publications were willing to believe is proof of Murray's guardian angel status in music. RZA and Shkreli both fueled the myth, agreeing that no one better was suited to pull off this potentially game-changing musical heist than Bill Murray, a true rock 'n' roll legend.