Grandmother From Idaho Fights Donald Trump's Extremism With a Gesture of Kindness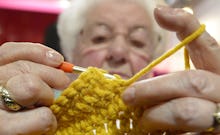 A 91-year-old Idahoan who goes by "Grandma Louise" made headlines on Friday when she took a stand against Republican presidential front-runner Donald Trump and his anti-Muslim agenda, most notably the business tycoon's statement on Monday that proposes a moratorium on Muslim immigration to the U.S. While the target of Grandma Louise's stand was Trump, the beneficiary was Fahim Rahim, Louise's doctor and a Muslim immigrant. To send a message, Louise crocheted Rahim a set of stuffed animals.
Cue hearts melting.
Rahim, who immigrated to the U.S. in 1997, has treated Louise at the Idaho Kidney Institute for several years. Louise was prompted to show Rahim a bit of kindness after a local radio host reportedly asked the doctor to  "defend" himself by responding to Trump's Islamaphobic statement during an interview last week.
"She has seen most of this country than any of us, including Mr. Trump ... her message was love, humanity and humility," Rahim told ABC News. "That was a magical moment. I felt like I was to heal her but she came in and healed my wounds."
"We have to understand that the majority of the people living in this country are like that 91-year-old woman," the doctor added. "This 91-year-old single-handedly has proven that no matter of how these forces do, no one will be able to destroy us or divide us."
The gesture of kindness was a breath of fresh air during a time of heightened confusion and fear in America. According to a recent poll of Americans, when it comes to the possibility of a terrorist attack in the U.S., anxiety levels are where they were in the wake of 9/11. And that fear has only boosted Trump's popularity, who has proven himself an extremist in his approach to Muslims in America. With 33% of GOP primary voters in favor, Trump is the top-polling candidate, ahead of Texas Sen. Ted Cruz (20%) and retired neurosurgeon Ben Carson (16%).
Trump has been characteristically unapologetic about his rhetoric, defending his position during a Monday rally in South Carolina. "I wrote something today that I think is very very salient, very important and probably not politically correct, but I don't care," Trump said, according to NPR.