Macklemore's New Album Isn't Out Yet, but Here's the Latest on Next Record With Ryan Lewis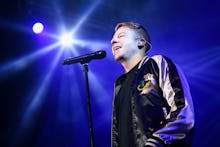 Beginning Jan. 9 in Phoenix, rapper Macklemore and producer Ryan Lewis will be going on a month-long tour following the release of their not-yet-seen-nor-named LP, according to Rolling Stone. The new album is expected to drop by the end of the year, and there were only a few songs left as of a few months ago, the Rolling Stone reported in September.
"I'm feeling great about this album," Macklemore told Rolling Stone about the LP, which he announced via Twitter in January. "It has a diversity of sounds and textures and concepts. We've been able to take our time with it, and it's a great feeling to get to that point."
Macklemore's addiction takes center stage. Following the great success from his Grammy-winning album The Heist, Macklemore, who was sober since 2008, relapsed back into pills and marijuana, he told Complex earlier this year. He called himself "burnt out" and in a "sophomore slump." 
In November, Macklemore performed a new song, "Kevin," with Leon Bridges at the 2015 American Music Awards, according to Billboard. The song, about pill addiction, likely reflects Macklemore's own addiction.
He sobered up when he found out his partner Tricia Davis was pregnant with their daughter, Sloane Ava Simone. 
The two went on a six-week retreat to Lewis' parents' Idaho lake house to record six serious songs, according to Complex. Others were recorded in Seattle, where they're based. 
Latest tracks: Two songs from the new album have been released so far. In early August, "Growing Up (Sloane's Song)," a song dedicated to Macklemore's daughter and inspired by his sobriety wake-up call, came out, NPR reported. The song features Ed Sheeran. Later that month, the more upbeat "Downtown," featuring Foxy Shazam's Eric Nally, came out, Rolling Stone reported. 
Macklemore's new LP is inspired by bands like Queen, the Beatles and Pink Floyd, according to Rolling Stone.
It's been two years since the duo has gone on tour and three since their last album, The Heist, came out. 
Macklemore tour dates: The tour dates for Macklemore's 2016 tour are below, via Rolling Stone:
Jan. 9 —  Phoenix - Comerica Theater 
Jan. 13 — Austin, Texas - Bass Concert Hall 
Jan. 15 — Thackerville, Oklahoma - WinStar Casino 
Jan. 16 — Houston - The Revention Music Center 
Jan. 19 — Miami - Fillmore Miami Beach 
Jan. 20 — Orlando, Florida - Dr Phillips Center
Jan. 22 — Richmond, Virginia - Altria Theater 
Jan. 23 — Philadelphia - Tower Theater 
Jan. 27 — Washington, D.C. - Dar Constitution Hall 
Jan. 29 — Atlanta - Fox Theater 
Jan. 30 — Nashville, Tennessee - Grand Ole Opry 
Jan. 31 — Louisville, Kentucky - Palace Theater 
Feb. 2 — Detroit - Fox Theater 
Feb. 3 — Muncie, Indiana - Ball State 
Feb. 4 — Peoria, Illinois - Bradley University 
Feb. 5 — Milwaukee - Eagles Ballroom