Hillary Clinton Dropped by the Set of 'Broad City' Creating a Moment for the Ages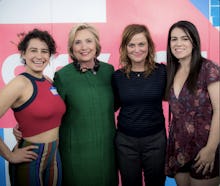 It was a feminist's wet dream. 
Democratic presidential candidate Hillary Clinton visited the set of Comedy Central hit Broad City during filming for season three. And it gets better. 
It turns out Clinton will be making a cameo in the beloved millennial comedy.
Clinton rolled up to meet the show's writers and stars Abbi Jacobson and Ilana Glazer, along with executive producer Amy Poehler. Thankfully, for the rest of the world, the visit was documented and shared for mass consumption.
While Comedy Central would not divulge any details as to how Kween Klinton would feature in the upcoming season, they did, however, confirm she would be a part of it. 
Naturally, the interwebs lost its shit, running wild with speculation as to how the presidential hopeful would be written into the script: from a dream sequence to the two stars blackmailing their way into a luncheon with the former First Lady. The answer will come soon enough, with the season debuting on Feb. 17.
Previous guest stars include Kelly Ripa (who plays an endearing drug-addled, sex-crazed alcoholic) and Patricia Clarkson (an emotionally distressed, well-heeled therapist with a drinking problem and a 34-year-old kleptomaniac son), who just yesterday said she longed to return. 
"I want to go back on Broad City. That's where my heart is," Clarkson told Vulture at the New York Women in Film & Television's Muse Awards.
However Clinton ends up featuring in the show, she pretty much said it all: 
"#yas."