Saudi Prince Who Bailed Out Donald Trump Calls on Him to Quit Presidential Campaign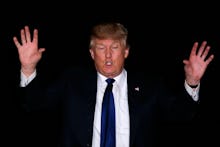 After Republican presidential frontrunner Donald Trump called for a "total and complete" ban on Muslims entering the United States this week, it didn't take long for reporters to dredge up examples of business deals the billionaire real estate magnate had inked in predominantly Muslim nations, from the Trump International Golf Club in Dubai, in the United Arab Emirates, to a line of home products marketed in Kuwait, the UAE, Saudi Arabia and Qatar.
Now, Trump is facing fire from one of the most prominent Middle Eastern tycoons he's done business with. Saudi Prince Alwaleed bin Talal on Friday called for Trump to withdraw from the 2016 presidential race, calling him "a disgrace not only to the GOP but to all America."
Alwaleed and the Trump "bailout": Alwaleed, a Riyadh-based investor whose net worth Forbes estimates at $24.8 billion, is no stranger to Trump. As the International Business Times pointed out this week, investors tied to a firm controlled by Alwaleed purchased New York City's Plaza Hotel from Trump in 1995, in what the website called "a bailout valued at $325 million."
The New York Times noted at the time of the sale that Trump had bought the posh hotel for $400 million in 1988. Trump remained a minority partner in the hotel after the sale, the paper reported, but assumed "a substantially reduced role" in its operations. 
"Mr. Trump bought the Plaza during the real estate boom of the 1980s, using borrowed money," the paper reported. "Additional debt was piled on the property over the next couple of years as he leveraged the landmark to buy the Eastern Airlines shuttle and to help pay the construction cost of his Taj Mahal casino in Atlantic City."
Trump sold the hotel to CDL Hotels International Ltd., which partnered with Alwaleed's investment firm, according to the Times report.
The Plaza isn't the only old Trump property Alwaleed has purchased: As BuzzFeed notes, a debt-ridden Trump sold his yacht, "The Trump Princess," to creditors in 1991; Alwaleed then bought the boat.
Behind the backlash: Alwaleed isn't the first erstwhile Trump associate to publicly blast the candidate following his proposed Muslim ban. While he didn't explicitly mention Trump, boxing champion Muhammad Ali released a statement to NBC News this week slamming political figures who "use Islam to advance their own personal agenda." Trump has previously called Ali "my friend." 
Despite the backlash, Trump may only see his support rise among GOP voters. A Bloomberg Politics/Purple Strategies poll found that two in three Republicans back Trump's proposal, although a separate NBC News/Wall Street Journal survey showed the party's voters split.