There's a Problem With How We Sell Makeup — and These Brands Are Fixing It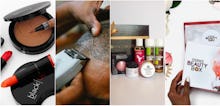 Last week, Kerry Washington was named the latest brand ambassador (er, hand ambassador) of OPI, becoming one more woman of color to front a beauty brand, like Lupita Nyong'o and Queen Latifah before her.
The signing of more women of color like Washington and Nyong'o, who became a face for Lancome in 2014, is seen as a sign that mainstream beauty companies are becoming more diverse, not only with their spokeswomen but also their actual makeup offerings. The best example of this is at L'Oreal, where the Women of Color Lab, founded in 2014 and led by Balanda Atis, is filled with scientists, product developers and marketers developing products for a multicultural array of customers, which has led to the creation of over 30 new shades. 
There are, however, needs that cosmetic giants like L'Oreal have not addressed. That's where smaller brands, created by men and women of color themselves, are increasingly coming into play.
Unique needs that go beyond color: The strides of big players like L'Oreal and Estee Lauder are admirable, but they can fall short when it comes to meeting diverse needs.
"There is a lack of solutions for acute health and beauty problems men and women of color face," Tristan Walker of Walker & Company told Mic. "There is a 'one size fits all' approach among many industry players that doesn't recognize or appreciate the distinct needs of consumers of color." 
Walker's startup, which just raised $24 million in Series B funding this fall, includes Bevel, a shaving system focused on men with curly, course hair.
"I founded Walker & Co. Brands to develop these solutions, starting with Bevel, which tackles the issue of razor bumps and irritation," Walked said. "[We] eventually want to help with solutions to other problems. I can see us tackling problems such as hyperpigmentation [and] Vitamin D deficiency."
Dana Hill, founder and CEO of Cocotique, echoes Walker's sentiment: The buck doesn't just stop at colors. 
"There needs to be a bigger emphasis on the development of products targeting skin care issues for hyperpigmentation and ingrown hairs, which are both prevalent in people of color," Hill explains. "In fact, not only do ingrown hairs lead to scarring and hyperpigmentation, but shaving, tweezing, and waxing can also be a factor. This is a huge problem for people of color."
Using women of color as spokeswomen isn't quite enough, in short, admirable though it is. As Lionel Durand, CEO of beauty brand Black'Up, said to Bloomberg, mainstream cosmetics that are simply modeled by black spokeswomen "are fake a little bit, because they aren't specified for women of color. They say, 'We deal with and treat all types of women,' but when you look carefully at the range, it's not right." Colors can read too pale or not provide enough coverage.
Even when a company gets the product right, those options are often marketed in ways that feel alienating. "Although women of color have many choices available to them today, beauty companies are still placing us in the ethnic category, rather than marketing to women in general with different levels of skin tones," Hill said.  "The issue is some brands treat women of color as a different consumer, which comes off as alienating, instead of inclusive."
Capitalizing on a huge opportunity: Another key obstacle to getting big beauty brands to cater to men and women of color? "Convincing mainstream beauty brands, particularly luxury brands, that women of color spend money on luxury beauty products," Hill said. 
"It is very difficult to get them to take notice of the influence of women of color and their buying power. Without this understanding, they don't see the importance of providing samples in beauty boxes targeted to women of color," she added. "However, women of color spend $7.5 billion annually on... cosmetic products, and 80% more on cosmetics and beauty products than the general market."
With black consumers' buying power expected to reach $1.3 trillion by 2017, companies that underestimate the needs and buying power of black consumers will be soon left in the dust. In the meantime, a new wave of smaller companies are hoping to fill the void — and to make it accessible.
Cocotique is a monthly subscription service that provides a convenient sampling of beauty products for women of diverse ethnicities. "From my own experience, I used to waste a lot of money trying different products for my hair and skin. Through extensive trial and error, I would find products that worked for me," Hill said. "Many women don't have time for the search and discovery process, so we do it for them."
They're not the only company getting into the beauty box game. The Essence Beauty Box ($15/month) puts the knowledge of the top Essence magazine editors in your hands with five products a month. The debut box included Ginger and Liz Argan Oil remover wipes, Fekkai Hair fragrance spray, Eden Bodyworks Coconut Shea hair oil and L'Occitane hand cream, according to the Huffington Post. 
Onyx, another monthly beauty box, provides between four and six makeup, skin, and hair products per month, with the ability for consumers to purchase the full-size goods on their website. Curlbox and Curlkit ($20/month and $25/month respectively) help women of color treat their tresses.
"One of our goals is to provide a platform for some of the smaller beauty companies owned by women of color to gain more exposure to their target market," Hill said, something sample boxes are uniquely positioned to do.
Boxes also ensure that products are conveniently available for the women who need them, given the limited options. As model and makeup entrepreneur Iman told the New York Times, "You go to buy one of the foundation shades you think that celebrity wore, and it won't be there."
That's why it was a big deal that Sephora started carrying BlackUp, one of the only high-end makeup lines aimed at women of color, this year. On the lower end, smaller brands like Black Opal have long been catering to the drugstore beauty buyer, sold nationwide in Walmart, CVS Pharmacy, Rite Aid, Duane Reade, Kmart and beauty supply stores.
"Black Opal wants to be where our consumer is so we are sold in major retail outlets," Maya Brown, vice president of marketing, told Mic, adding, "All Black Opal products are endorsed by Dr. Cheryl Burgess, a noted leader in the cosmetic field for multicultural women and founder of the Center for Dermatology and Dermatologic Surgery in Washington."
Black Opal is joined by longtime brands like Iman and Black Radiance, which "produce very sophisticated and tailored products at the drugstore price point, so we don't have to seek things out at Sephora or a department store," Patrice Yursik, founder of Afrobella, told Racked.
As for Bevel, Walker recently announced that the shave system will be available in select Target stores beginning in 2016. It's a major step, thanks to widespread support from both high-profile fans like Nas, Carmelo Anthony and John Legend and loyal customers.
"[They] share our vision of building the world's most consumer-centric health and beauty products company for people of color," Walker told Mic. "Many of them have supported us because our mission resonates with their personal experiences, and all of them care deeply about what we're doing."