This Alternate Vision of Nicki Minaj's 'Anaconda' Has a Brand New Killer Third Verse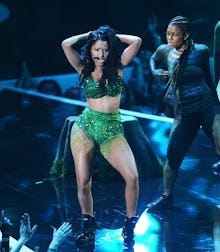 It's been over sixteen months since Nicki Minaj first graced us with the video for her hit song "Anaconda," but this track is the gift that keeps on giving.
Thursday, AnonXmous, one of the original producers of the track along with Polow da Don and Da Internz, leaked an alternate version via Audiomack. While polished and remarkably close to the final product, this version has two distinct differences: a brand new third verse and a recurring "I've got a big fat ass, big dicks follow" lyric. Minaj's fans will recognize the recurring line from her fire verse on Ciara's 2013 song "I'm Out." 
Conspicuously absent from this version is Minaj's cackle, which she delivered, to the delight of the internet, on the third, spoken verse of the original "Anaconda." 
On the new verse, Minaj claims she's a "woman of her word," and that she's "rocking designer you ain't ever been in." The song will be appearing on AnonXmous' upcoming Hallucinogens project, according to Young Money HQ. Check out the song and the new verse below.