FBI Investigating a Fire at a Coachella Valley Islamic Center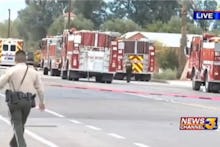 After receiving a report at noon on Friday, the FBI is investigating a fire that flared up in the lobby of a Coachella Valley mosque. It remains unclear whether the fire was a deliberate attack, but both sheriff and fire officials are looking into the cause, and at least one county official has told reporters an "incendiary device" may have been involved.
Imam Reymundo Nour told CBS that people at the center described hearing a "loud boom" before flames ensued, and claimed the building had been "fire-bombed." 
The California mosque was the target of an attack last year when, according to the Desert Sun, "at least five shots were fired, three hitting a car and others striking the building." 
According to the FBI's 2014 hate crime statistics, last year 15.2% of all anti-religious hate crimes in the U.S. were victims of anti-Islamic bias. The total number of such victims (154) is nearly 15% higher than in 2013 (136). And there's every reason to believe that figure is climbing. 
In the aftermath of the San Bernardino shootings and Paris attacks, anti-Muslim sentiment has been especially pervasive in political rhetoric, with Donald Trump calling for an end to Muslim immigration to the U.S. Though the comments were met with strong dissent, Islamophobic beliefs present a threat to Muslims in America. On Monday, an employee found a severed pig head at the Al Aqsa Islamic Society mosque in North Philadelphia.