Nicki Minaj Went on a Feminist, Body-Positive Twitter Rant Addressing Her Haters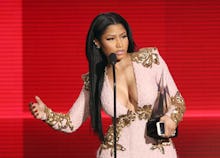 Nicki Minaj took to Twitter on Friday to address those who feel she's only famous because of her butt. While the rant may have seemed random to those who follow her timeline, the story is much larger. 
It began Friday evening when entertainment site Bossip started a Twitter chat about the lack of mainstream female rappers. While 2014 was poised to be the year of female rappers, very few have had the success or staying power of Minaj. 
While the general question was amiable enough, the conversation quickly turned hostile after Bossip retweeted a message aimed at Minaj and her butt. 
People in the conversation quickly became incensed that Bossip would retweet the sexist sentiment. 
And no one was more incensed than Minaj, who continued her year-long master class in how to control your own narrative with a feminist rant that addressed sexism, racism and misogyny in the rap world. 
Minaj reminded everyone about her long list of collaborators — many of whom she's been able to outrap. 
Minaj is no stranger to defending herself against disrespect from journalists, either. As recent as October, she shut down a New York Times magazine reporter for a disrespectful question that painted her as someone who loves drama.  
Bossip pushed back against Minaj's assertions and began to retweet those who disagreed with Minaj. 
They also began to taunt Minaj, using her own legendary verse from Kanye West's "Monster" against her. 
Minaj clapped back by quoting some of her supporters and continuing to school the site. 
It seems Minaj had the final word on the subject: