Turns Out, 'Pharma Bro' Martin Shkreli Isn't Done Jacking Up Drug Prices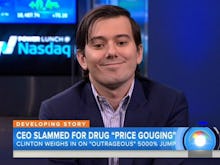 Turns out Martin Shkreli, the founder and CEO of Turing Pharmaceuticals who inspired nationwide outrage after he raised the price of an anti-protozoal drug named Daraprim (commonly used in HIV treatment) by a stunning 5,000%, isn't quite done yet.
The 32-year-old former hedge fund manager widely known as "Pharma Bro" is turning his sights toward a version of the drug benznidazole, a drug used to fight Chagas disease, reports the New York Times.
According to the New York Times, Shkreli hopes to gain Food and Drug Administration approval via a second company named KaloBios to license benznidazole, which is currently not approved by the agency for use in the U.S. but is currently free for some patients via a trial program run by the Centers for Disease Control and Prevention.
He wants to license the medication via a voucher program intended to spur further drug research, which would allow him to raise the price of a course of treatment to the neighborhood of $60,000-100,000, or simply sell the voucher for a quick profit, the paper reported.
His latest move is "an abuse of the system," neglected disease expert Dr. Bernard Pécoul told the New York Times.
Reuters additionally reported Chagas disease affects some 300,000 people in the U.S., though it is unclear how many of those people would be affected by Shkreli's move.
The New York Observer recently proclaimed the pharmaceutical CEO the "year's biggest troll" after he followed up his Daraprim price increase by buying the sole copy of the Wu-Tang Clan's exclusive album Once a Time in Shaolin for $2 million.
"I could be convinced to listen to it earlier if Taylor Swift wants to hear it or something like that," Shkreli quipped in an interview with Bloomberg Business. "But for now, I think I'm going to kind of save it for a rainy day."
While Shkreli might provide a convenient villain for critics of the pharmaceutical industry at large, price gouging throughout the entire U.S. medical industry is increasingly common. The Organization for Economic Development estimates Americans spend about $1,000 a year on medicine, with many other economically advanced nations spending around half or less that per resident.
h/t Gawker