Prince Drops Surprise Album 'HITNRUN Phase Two': Track List and How to Listen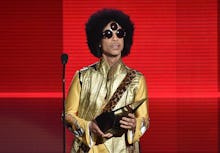 Attention, Prince fans: the multi-platinum artist has just given you "the best early Christmas present" possible: the Purple Rain-maker and pop icon dropped his newest album — HITNRUN Phase Two — at 9 a.m. Eastern on Saturday, Dec. 12, exclusively on Jay Z's streaming service, Tidal. Phase Two is the complement to September's HITNRUN Phase One; the two halves make up a 23-track album that was, according to MusicNews.com, "meticulously crafted over a nearly four-year period,"  with the artist "gradually adding songs until the sequence was perfected and ready for release." Fans can listen to the 12 new tracks on Tidal, where the full HITNRUN album is available for $14.99.
In a tweet on Saturday, Prince announced the surprise release to his fans, with a plea: "PLEASE EVERYONE PURCHASE THE PRODUCT AFTER LISTENING," he asked, including a link to the Tidal page.
What to expect: Phase One has been billed as a mixed bag of hits and misses. Jon Pareles of the New York Times called Phase One "a merger of Prince's funk mastery and the surreal possibilities of the digital studio" and "a proud display of quirks and an effort to come to terms with the possibilities of electronic dance music and all its gizmos." Phase Two is equally varied and — one can only hope — full of the delightfully strange lyrics the artist is known for. So far, his fans are pleased.
Tracklist: Phase Two gives listeners new takes on a few tracks they've heard before — "Baltimore" (which Prince penned in response to the Freddie Gray protests and the media's coverage of the events), "Stare," "RockNRoll Love Affair," "Screwdriver" — and studio versions of songs the artist has only ever performed in concert — "When She Comes," "Revelation," "Black Muse" — alongside fresh material, reports Rolling Stone. 
The full tracklist reads:
1. Baltimore
Featuring: Prince's very own backing supergroup, The New Power Generation,  which debuted on 1991's Diamonds and Pearls. "A 16-member horn section is featured throughout the album, combining Prince's NPG HORNZ and Minneapolis' HORNHEADS, the latter a frequent addition to his larger studio ensemble," according to MusicNews.
What is Tidal? Back in March, Jay Z and a coterie of big names in the music business — including Rihanna, Kanye West, Nicki Minaj, Jack White, Madonna, Arcade Fire, Usher, Chris Martin, Alicia Keys, Calvin Harris, Daft Punk, deadmau5 and Drake, a group Tech Advisor classifies as "co-owners and stakeholders of the company" — gathered onstage at the Barclays Center in Brooklyn for the launch of Mr. Carter's new venture: Tidal, a subscription-based streaming service that promises higher quality content than users will find on, say, Spotify. Because a Tidal subscription is pricey ($19.99 per month for a premium subscription), it's met with middling success. Enter Prince, who's allowed the company to stream both his most recent albums and his May concert in Baltimore, according to Forbes.